UPDATE
While the BOGO still applies to 2500mg and 5000mg CBD plus 6000mg softgel capsules, everything else in the Organica Naturals store is now 20% off with discount code GAYELEVY. As always, shipping to the US is free and there is a 60 day satisfaction guarantee.
~~~~~
In a shameless promotion, I want to share one of the best deals I have seen EVER from my favorite supplier of CBD oils, softgel capsules, and powders.  This is for real:  Organica Naturals has a two for one sale running between now and Sunday night.  Everything in their store is included.  Everything!
What does this mean in practical savings? 
As an example, my husband uses the largest bottle of CBD capsules they sell.  The bottle of 240 capsules is normally $340, but with the BOGO offer, I get 480 capsules for the same price.  Smaller bottles start at $50 for 30 capsules so instead of a one month supply, you would get two months for the same $50.
For myself, I use Full Spectrum CBD oil.  Why not the capsules?  They are too strong for me since I only use 10mg to 20mg per day depending on my stress and anxiety levels.  Let me explain.
Managing Stress and Anxiety with CBD Oil
When our current crazy situation (COVID, election, et.al.) became all too much, I turned to natural remedies for relief.  I accelerated the use of CBD and began to take a small dose in the morning as well as my usual dose at night.  I am not a therapist and not a health care professional but am completely comfortable sharing what I do to use as a guideline for your own situation.
For sleep, I use 10mg of CBD oil at night.  I couple that with applying my DIY Dream Salve on the bottom of my feet (or sometimes on my belly) once I climb into bed.  Using this combination of natural remedies, I am asleep within minutes after my head hits the pillow.  Not only that, I typically get up once during the night for a potty break but immediately go back to sleep.  It is like a miracle.
CBD dosing is kind of tricky because depending on what you are using, one drop of CBD oil could be 1mg, 2mg, 5mg, or something else completely.  I wrote an article about this that is a great reference if you are new to CBD:  CBD Dosing: How Much CBD Should I Take?
For daytime anxiety, or what I call the moody blues, I take an additional 10mg in the morning, after my morning coffee.    I don't do this every day, only on those days where I feel listless, bored, and unenthusiastic about anything.
BOGO HIGH POTENCY FORMULAS
20% Off Everything Else Using Code GAYELEVY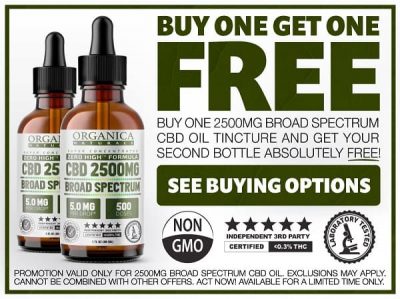 A Reader Testimonial
I have written a lot about CBD and have become somewhat of an evangelist amongst my friends.  Recently, I worked with one of our Strategic Living readers whose husband's pain was so severe that he had pretty much checked out of doing anything other than sitting around, extremely depressed and unable to function.  Even though I had articles on the website, I tried to help her with both the dosing and the detailed steps needed to create a salve.
She sent this update this morning and gave me permission to share:
I just wanted to give you an update on my husband, [name redacted], and his progress with CBD oil. It took over a month for us to finally see relief with the arthritic pain in his wrists, and now we are on a steady path to control it. Thank you so much for your sage advice and recommendation to Organica. I have learned to use a little LED flashlight in dispensing drops under his tongue. It has been a valuable discovery to actually see and control the drops. Thanks again for your patience in helping us solve this. Also, he has undergone a very painful root canal two weeks ago. He thinks that the CBD oil helped him recover quickly from that!
The timing could not have been better and I am thrilled that in some small way I have been able to make a difference much as I have done over the years with prepping and essential oils.  That said, if you have some specific questions regarding using CBD, I will be happy to share more of my experience privately via email or in the comments.  You can reach me privately via my contact form. 
Summing It All Up
Something I have not done in this article is going into detail as to how CBD, combined with essential oils, has resolved aches, pains, and muscle cramps not only for myself but for my husband, Shelly.  I have written extensively about this previously and am listing the various articles below.
What You Need to Know About CBD Oil
What I Learned Using CBD Oil
CBD Dosing: How Much CBD Should I Take?
Homemade CBD Salve that Really Works
Create a CBD Rollerball for Joint & Arthritis Pain Relief
Regardless of whether CBD is right for you or not, going forward I plan to explore the synergistic use of CBD and essential oils further. I especially want to add CBD to my current skincare routine that uses essential oils and see if the combination will further combat the drying effect of Arizona's climate.  If you have some other uses that are of interest, be sure to let me know in the comments.
Yours for a Joyful Life,
Gaye
Strategic Haul
BOGO HIGH POTENCY FORMULAS
20% Off Everything Else Using Code GAYELEVY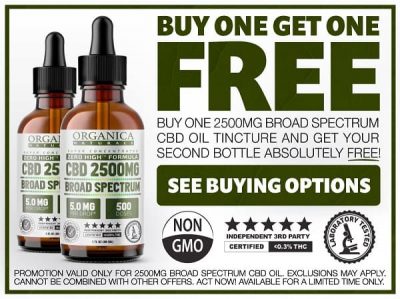 ~~~~
Like this? Be sure to visit Strategic Living on Facebook and Pinterest!  To learn more about Gaye, visit her ABOUT page.

Stay Informed!  Sign up and be the first to learn about something new at Gaye Levy's Strategic Living Blog