For almost six months, I have been trying to formulate a topical version of CBD that can be used to mitigate the toughest forms of pain and inflammation.  With my understanding of how the endocannabinoid system works, I was convinced that a topical CBD salve would provide relief from both chronic and incidental muscle and joint pain.
It seemed simple enough since all I thought I needed to do is add some CBD oil to a base carrier, similar to what I do when making an essential oil salve.  As it turned out, it was not so simple. 
Most of my attempts became expensive and messy failures as batch after batch was either too greasy, too firm, or simply too messy to use.  I finally resorted to purchasing a pre-made CBD salve and it was perfect in all ways except for cost.
I did not give up, however.  About six weeks ago I went back to the drawing board, this time using a CBD concentrate in powdered form. Within days, my resident tester (husband Shelly) told me that not only was this DIY version better than the purchased salve, but when layered with essential oils, it was "unbelievable".  His words, not mine.
So here you go.  I am thrilled to share with you a  homemade CBD salve that is perfect for back pain, sore knees, wrenched shoulders, sprains,  pinched nerves and more.
Why a Salve?
Skin is the largest organ in the human body and as such, is a  powerful gateway to the underlying molecular structures in our bodies.  While skin does provide somewhat of a protective barrier, it is also permeable, meaning that many substances are absorbed, some good and some bad.  We all know, for example,  that with toxins, absorption by the skin may cause everything from a rash (think poison ivy) to cancer (think glyphosate or RoundUp). 
On the other hand, with CBD as well as with most essential oils, absorption into the skin can provide soothing and healing relief as these plant-based products target the surrounding area specifically.  This is where a salve comes into play. 
Using a well-formulated salve, you can precisely target where you want this absorption to occur by affecting the endocannabinoids that are present in the skin.  There is no waste and no mess.
Another benefit of using a salve is that unlike a CBD tincture or capsule, the CBD does not first go through the digestive tract and get metabolized by the body.  That means that in most cases, you will feel the benefits right away.
How to Make CBD Salve
You will need:
2 oz. Base Carrier Salve ((instructions here and below)
2 oz. Jar (or 2 x 1 oz. jars)
Note:  the Base Carrier Salve is made with olive oil, coconut oil, and beeswax.  It is good to keep on hand as an all-purpose ointment and carrier for your essential oils.
Directions:
Scoop some premade base salve into a smaller jar and liquefy the contents by setting it into a pan filled with an inch of water.  Set on top of the stove and heat gently until the base salve is melted. 
While the base salve is melting, measure out 1 gram of CBD distillate.   
Hint:  if you do not have a scale, consider purchasing your isolate in a 1 gram jar.  That way no measuring is required.  (This is the scale that I use.)
Once the base salve is fully melted, add the premeasured CBD distillate.  Stir gently until it is fully dissolved and well combined.
Remove the jar of salve from its water bath and allow it to cool.  I like to cap the jar and shake it up a bit to ensure everything is well mixed but that is totally optional.
This is what a CBD Distillate or CBD Isolate looks like. It is very powdery.
To use CBD salve, take a good size dab (about the size of a nickel) and rub it into your skin.   You will find that it absorbs very quickly, providing almost immediate relief.  Repeat as needed.  
Want even more relief?  Layer with Miracle Healing Salve (made with Lavender, Lemon, and Peppermint essential oils) and experience even greater benefits.  
How Much Will This Recipe Make?
This recipe will make a 2-ounce jar of salve with a total potency of 1000 mg of CBD.  Why is this important?  If you decide to evaluate whether it is worth making it yourself, you will want to compare costs.  Let me give you an example.
According to my calculation, the cost of this recipe is $31.57 to $36.57, depending on whether you choose a CBD distillate or isolate.  The recipe makes 2 ounces which bring the cost to $15.79 to $18.29 per ounce. The cost of the salve I purchased from Joy Organics was $99.95 for 2 ounces or $49.98 per ounce. 
See why I love DIY?
What Exactly is CBD in Powdered Form
I would like to take a few moments to discuss powdered CBD.  Powdered CBD can go by many names and for the longest time, I called is "isolate".  But that is not quite true because isolate is just one form of powdered CDB. Let me break it down.
CBD concentrates in powdered form are considered a distillate if they contain CBD, CBG, CBC, and natural Terpenes.  By law, a distillate contains less than 0.3% THC and can be shipped to all 50 states.
An isolate, however, is more highly refined and is guaranteed to be 100% THC-free. It is often marketed as "zero-high" although no CBD product available over the counter will make you high.
Recommended Reading:  What You Need to Know About CBD Oil
A Word About CBD Oil
It took a lot of time for me to jump on the CBD bandwagon and I only did so after doing a lot of research and after checking with my personal healthcare providers.  Although I have outlined this in my previous articles on CBD oil, it bears repeating.  We are going through a period not unlike the wild, unchartered West when it comes to CBD oil.  Whereas you can find a ton of information online, some of it is questionable and it is difficult to discern fact from fiction.
My advice?  Do your own research and use good judgment.  If something seems off relative to the claims being made, move on.  Also, if the price is too good to be true, run.  CBD is not inexpensive.
Perhaps most important, talk to your healthcare providers, especially if you take medication for serious health issues.   Every single one I talked was more than happy to share their thoughts and was appreciative of my keeping them in the loop.
Finally, as with essential oils, there are good providers and bad providers.  Some will rip you off by providing a less than pure product with inferior carrier oils.  On the other hand, many providers will offer a wealth of educational material and will make themselves available to answer your questions by chat or by phone.  A good provider will stand by their product with a 30 or 60-day money-back guarantee as well as free shipping.
I get my CBD from  Organica Naturals and could not be more pleased with their products and service.  And yes, although I am an affiliate and earn a small commission on sales, I would purchase CBD oil from them regardless.  If you decide to check them out, feel free to use coupon code "gayelevy" at checkout to get a 20% discount. 
~~~~~

Want to give CBD Oil a try?  Get a 20% discount using code "gayelevy" at checkout.  Free shipping on orders over $100 and a 60 day return policy.
~~~
How to Make Base Salve
If you do not have any Base Salve ready to go, you can quickly make up a small batch or purchase some pre-made.
Ingredients
1/2 cup Virgin Coconut Oil
1/2 cup Extra Virgin Olive Oil
2 1/2 Tablespoons Beeswax Pellets
Directions
Measure the coconut oil, extra virgin olive oil, and beeswax into a heatproof glass jar or measuring cup. Set in a pan of water on a low simmer until completely melted.  You can help things along by giving it a quick stir from time to time with a knife.  This may take some time, up to 30 minutes.
When everything is completely melted, remove from heat.
Carefully pour the warm oil into ointment jars or small mason jars, leaving some headroom at the top.  Set aside to firm up.  Depending on the temperature of your home, this can take up to 12 hours.
Yield
1 cup
The complete recipe for DIY base carrier salve can be found here:  Base Carrier Salve for Essential Oils
Summing It All Up
Digging into my personal experience with CBD (both the oil and the salve), I can say with certainty that it has been a lifesaver for my husband.  It was only two years ago that he progressed through multiple, time-consuming, and invasive back treatments with a pain specialist.  The final treatment only lasted 18 months and before he was back to starting the process all over again. 
That is when I started looking into CBD oil to both educate myself and learn about its risks and benefits.  Call it what you may, but I am now evangelistic when it comes to CBD and its place in a wellness plan.
As far as I am concerned, creating this salve has been an important step in ensuring both Shelly and I have a pain-free and comfortable life as we age and become less limber over time.  And let's face it, we all get old eventually so we might as well make the best of it.
Next up?  I have purchased some pet CBD for my dog, hoping it will reduce his anxiety at toenail cutting time.  Fingers crossed.
Yours for a Joyful Life,
Gaye
Strategic Haul
As with my other CBD posts, I prefer to make them no-pitch and low key in nature.  I am only going to recommend one thing: a book that you should read if you have any interest at all in CBD oil.  That said, I am also going to include links to the two companies that I have purchased from.  Both have an excellent product, great customer service, and fair pricing with free shipping.
CBD: A Patient's Guide to Medicinal Cannabis–Healing without the High:  If you only get one book on CBD, consider this one.  Most of the low-cost or free eBooks on Amazon are useless.  This book, by Leonard Leinow, Juliana Birnbaum, and Michael H. Moskowitz is not cheap and not free.  I am still working through it and recommend that you make this book a part of your self-care library.  From the description on Amazon:
This practical, accessible guide to using CBD-dominant cannabis contains a wealth of information for both first-time explorers and experienced patients who want to know more about safely treating a number of health conditions with remarkable results and low to no psychoactivity or negative side effects. CBD (cannabidiol) is a component of cannabis that can provide relief for conditions such as seizures, pain, inflammation, anxiety, depression, arthritis, and a number of other issues.

This book offers guidance on various forms of the medicine such as oil infusions, alcohol-based tinctures, capsules, and CO2 concentrated extracts. The information is organized by health condition and also by recommended CBD-rich strains, which do not produce the "highs" associated with THC.

With dosage suggestions, potential side effects and contraindications, and the pharmacology of the plant, this is an essential guide for both doctors and patients looking for a nontoxic alternative to opiate-based pain medications and other pharmaceuticals.a number of health conditions with remarkable results and low to no psychoactivity or negative side effects.
OrganicaNaturals:  This company specializes in tinctures for both humans and pets, including a zero-THC option.  Their cannabis plants are from Colorado and California, where they grow outdoors under natural sunlight using organic and sustainable farming practices. The plants are non-GMO and pesticide-free.  All products are third-party tested and shipping is always free. Note:  They offer a 15% discount using code "gayelevy" at checkout although, for a short time, they are offering a 20% discount.
BOGO HIGH POTENCY FORMULAS
20% Off Everything Else Using Code GAYELEVY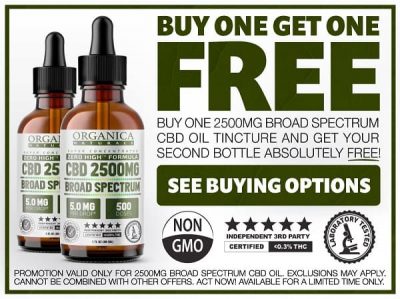 Additional Reading
What You Need to Know About CBD Oil
What I Learned Using CBD Oil
CBD Dosing: How Much CBD Should I Take?
Homemade CBD Salve that Really Works
Create a CBD Rollerball for Joint & Arthritis Pain Relief
~~~~
Like this? Be sure to visit Strategic Living on Facebook and Pinterest!  To learn more about Gaye, visit her ABOUT page.
Stay Informed!  Sign up and be the first to learn about something new at Gaye Levy's Strategic Living Blog 

Want to give CBD Oil a try?  Get a 20% discount using code "gayelevy" at checkout.  Free shipping on orders over $100 and a 60 day return policy.
~~~