For the past year, I have been in a funk.  Undoubtedly being my own worst enemy, and with time on my hands, I devour the news with disbelief at how bad the United States has descended into tyranny.
This is something I wrote about often at the now, apparently defunct, Backdoor Survival.  At the time, I spoke of the erosion of civil rights and the perfect storm for economic and political collapse.  My timing was off but as many in the survivalist prepper community have predicted, things are now happening on the public stage that are far worse than we imagined.
All that being said, for Independence Day, I wish to share the following tome with you.  Although I have made slight changes, it was originally was shared over a year ago by a member of my community and is a reminder that as far as I am concerned, we live in the greatest country in the world, warts and all. 
It is a quick read, but well worth it.
The Pledge of Allegiance
The Pledge of Allegiance is a unique document.  It begins with the word "I" and ends with "all." I thought I would take a few minutes and go over each word in the Pledge for its true meaning. The word "I" does not mean all of us as a group or everyone except me. It means me and it means each one of you.
"I Pledge allegiance"
A solemn promise of loyalty by the citizens of a country for their government. Not every individual within the government, or all aspects of the wheels of government, but to our form of government.
"To the flag of the United States of America"
The allegiance is not to a piece of cloth, but to its symbolism. It represents our country. The country that gives each of us the opportunity of becoming all that we wish to become. A country of vast size, beauty and diversity that is unparalleled in the world.
"And to the Republic for which it stands"
A Republic … a style of government in which the supreme power rests with the body of citizens entitled to vote, whose power is exercised by their chosen representatives.

Where representatives, for whom we did not vote, can still represent everyone without the fear of anarchy. A type of government that may not be perfect, but has successfully guided our country to greatness over the past 200+ years.
"One nation"
A mix of different states, regions, races, and religion that are designated with one label: Americans.

A country that can have diverse differences of opinion and argue among ourselves. But a country that will join together when threatened by natural calamity or hostile outside forces.
"Under God"
While the Constitution recognizes the separation of church and state, we also recognize the right to believe in a Supreme Being.

Every religion has its own definition of its God. Whatever that image is, we are all free to believe without fear from our government.
"Indivisible"
We cannot be divided into separate parts. That was proven during the Civil War, one of the most trying of times for our country.

Oh, we can have differences of opinion on how things could or should be done. When push comes to shove, however, we will stand together for what our country stands for.
"With Liberty"
Freedom.  Freedom to choose what we will do with our lives.

Freedom to live wherever we wish to live and to work hard to become whatever we want to become.

The freedom to get on a plane and go 3000 miles across the country without ever being required to show a government official documentation of where we live and where we are headed.

Freedom to own property, to save and invest money, to speak out against our leaders or to believe in or refuse to practice a religion.
"And Justice"
Equality and fairness. Being rewarded for working hard. Being punished when doing wrong.

It's not perfect, but the system works well when faced with the imperfections of mankind. I dread the thought of the alternative.
"For all"
These qualities and pitfalls are for everyone, whether black, white, brown, or yellow.

We are all part of this society called America. We are all entitled to the rewards if we do well and must suffer the pains of regret if we just let things slide.
Have you ever noticed that no one tries to get smuggled across the border to get into Mexico?
I have never seen anyone trying to build a raft at the beach, hoping to make it to Cambodia!
No, everyone wants to come to America.
Why? Because we have everything we need here. All the books we need, all the classes we need, all the lectures we need, all the churches we need, all the schools we need, all the sermons we need, all the opportunities we need … we have everything here.
~~~~~
Summing It All Up
Each of us is responsible for working toward the betterment of all, regardless of our position in life, race, religion, or sexual preference.  That is the beauty of the great melting pot I call home.
Alas, there are certain political ideologies being expressed today that encourage us to look at our fellow man as though he or she is the enemy.  The buzzword of the day is "racist" and it is being applied indiscriminately to proud Americans who see people for who they are and not because of the color of their skin.  It is disgusting.
On those days where you think you cannot take it anymore, go back and say "The Pledge of Allegiance".  Listen to the words and remember their meaning as you take the higher moral ground and continue to live a strategic life with honor and pride.
Yours for a Joyful Life,
Gaye
Strategic Haul
Free copy of the US Constitution and Declaration of Independence:  Although it can take a month or two to arrive, you can order a free copy of the  US Constitution and Declaration of Independence from Hillsdale College.  Hillsdale is a small private school in Hillsdale, Michigan, that is known for not accepting direct or indirect government funding.  (I have no relationship with Hillsdale other than I ordered a copy for my own use).
BOGO HIGH POTENCY FORMULAS
20% Off Everything Else Using Code GAYELEVY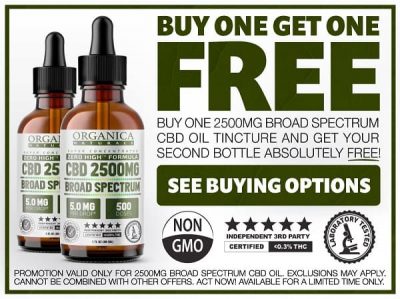 ~~~~
Like this? Be sure to visit Strategic Living on Facebook and Pinterest!  To learn more about Gaye, visit her ABOUT page.
Stay Informed!  Sign up and be the first to learn about something new at Gaye Levy's Strategic Living Blog 

Want to give CBD Oil a try?  Get a 20% discount using code "gayelevy" at checkout.  Free shipping and a 60 day return policy.
~~~