Using CBD oil as an over the counter remedy has gone mainstream.  Alas, from some of the feedback I have received, success using CBD is either boom or bust.  Digging further into how those in the "CBD is a bust" camp are using CBD, I have come to believe that the issue is dosing. 
Part of the blame sits on the shoulders of CBD vendors for providing unclear dosing instructions and confusing labeling. Additional confusion comes from the fact that each of our bodies is unique in the way CBD is metabolized.  All of this is very sad because CBD can be very effective in providing relief from anxiety, sleeplessness, and pain. 
In this article, I address the question of "How much CBD should I take?".
CBD Dosing is Confusing
If you are confused by the unclear and sometimes non-existent guidelines dictating how much CBD you should take you are not alone.  In the beginning, even I was confused. 
Let me start with an analysis of two different bottles of CBD Oil.  One is "CBD 250MG Full Spectrum" and the other is "CBD 2500MG Full Spectrum".  Both are from the same vendor.  You would think that 1 drop from each bottle would be the same, dose-wise.  But no, that is not the case. 
Let me break down the differences.  One drop of the CBD 250 is 1.0 mg and one drop of the CBD 2500 is 5.0 mg.  Not only that, one dropper full, commonly thought to be a "serving" is 17 mg and 83 mg respectively.  Huh?
To the consumer who does not know better, it makes sense to take the term "serving" literally.  But with CBD, that is folly because depending upon the product you are using, you may be taking far more CBD than you need. 
Important point:  the effectiveness of CBD should be measured in milligrams and not a dropper full or servings.
Note that this type of confusion is not limited to a single vendor.  It is no wonder that the public is confused.
To demonstrate how dosing can differ from one product to another, my preferred vendor, Organica Naturals, provides this table:
500mg concentrated 30 mL formula
1.0mg per drop (16.7mg/1 mL dropper)

1000mg ultra concentrated 30 mL formula
2.0mg per drop (33.3mg/1 mL dropper)

2500mg super concentrated 30 mL formula
5.0mg per drop (83.3mg/1 mL dropper)

5000mg hyper concentrated formula
10.0mg per drop (166.7mg/1 mL dropper)
How to Determine the Correct Amount of CBD
Why is this important?  The most frequent question I get is about how much CBD to take.   Based upon my own experience and research, this is how I respond.
People take CBD for different reasons.
Some individuals use CBD to seek relief from sleep, anxiety, or mild depression.  Others take CBD to combat pain and inflammation.  And others take CBD to get relief from fibromyalgia and other severe maladies.  Some needs are more dire than others, and individual dosing should reflect those needs.
Each person has unique needs. 
In plain English, this means that one size does not fit all and there is no dose or so-called serving size that works universally for everyone.  We all differ in our daily activity levels, metabolism, and general state of health.  These are factors that require us to experiment to find the best dose to meet our individual needs.
Age, gender, and especially body weight may matter.
A common rule of thumb is to use bodyweight to calculate your initial dose of CBD.  This rule of thumb suggests that you start with 1-5 mg for every 10 pounds of body weight. 
Personally, and based upon my own experience, I suggest the low end of 1 mg per every 10 pounds of body weight and perhaps half that if your issues are modest.  Although it is logical that those with a higher body mass will need more CBD to feel the desired effects, this is only a starting point.
Along those same lines, a younger person with a faster metabolism may require a higher dose than an older person (say someone that is 25 years old versus 65 years old).
Most people need to be patient with the process and give themselves time to find the perfect dose.
When first starting to use CBD, it may take some experimentation to find the right dose to meet your needs.  I can not say this often enough: start slow and add milligrams until you figure out exactly how much CBD works best for you.   Remember, you need to measure milligrams and not drops since, as I stated above, the number of milligrams per drop will vary by the strength of the CBD and even the vendor.
The good news is the once you find your personal CBD sweet spot. the amount you need to take on a regular basis will remain consistent unless your circumstances change.
Changes to your health and physiology may require that you change your dose.
It is generally accepted by scientists that as our health and general well-being changes, the endocannabinoid receptors in our bodies also change.  As a result, illness, injury, weight change, anxiety, and extreme stress may require you to alter your ideal CBD dose.  If you find yourself in this situation, again, slowly increase your dose until the desired results are again achieved.
Bioavailability differs depending upon how CBD is taken
Vaping is the best, but at this point considered risky.  Most reputable vendors have pulled vape cartridges from their product line.
Sublingual absorption under the tongue is generally considered to be the most effective, yet safe, way to take CBD.  The downside of placing the drops under the tongue is that for some people, the taste is quite unpleasant.  Some vendors do offer flavored versions.
Capsules make it easy to take CBD.  Efficacy is generally considered to be similar or just slightly less than straight oils or tinctures.
Edibles have the least efficacy because they must be digested before entering the bloodstream.
Finally, topical CBD provides immediate spot treatment.  A CBD salve applied topically does not have to be metabolized by the body and absorbed quickly giving almost immediate relief to sore joints and muscles.
Additional reading:  Homemade CBD Salve that Really Works
Too Much CBD Can Make Your Crazy!
I would be remiss if I did mention that a number of people have told me that CBD made their symptoms worse.  One friend even said that it made him crazy!  In each instance, the individuals were taking the proverbial full dose as stated on the bottle, regardless of their own unique needs.  They started high and quit which is a shame.
In my own experience, and before I knew better, I thought if 2mg nightly for sleeplessness was good, then 10mg would be better.  That was a huge mistake and for the three days I took the higher dose, I experienced extreme brain fog.  By the way, I finally found my own sweet spot at 5 mg taken under the tongue before bed.  This is far less than what most so-called experts recommend which just goes to show you that your mileage may vary.
A Word About CBD Oil
It took a lot of time for me to jump on the CBD bandwagon and I only did so after doing a lot of research and after checking with my personal healthcare providers.  Although I have outlined this in my previous articles on CBD oil, it bears repeating.  We are going through a period not unlike the wild, unchartered West when it comes to CBD oil.  Whereas you can find a ton of information online, some of it is questionable and it is difficult to discern fact from fiction.
My advice?  Do your own research and use good judgment.  If something seems off relative to the claims being made, move on.  Also, if the price is too good to be true, run.  CBD is not inexpensive.
Perhaps most important, talk to your healthcare providers, especially if you take medication for serious health issues.   Every single one I talked was more than happy to share their thoughts and was appreciative of my keeping them in the loop.
Finally, as with essential oils, there are good providers and bad providers.  Some will rip you off by providing a less than pure product with inferior carrier oils.  On the other hand, many providers will offer a wealth of educational material and will make themselves available to answer your questions by chat or by phone.  A good provider will stand by their product with a 30 or 60-day money-back guarantee as well as free shipping.
I get my CBD from  Organica Naturals and could not be more pleased with their products and service.  And yes, although I am an affiliate and earn a small commission on sales, I would purchase CBD oil from them regardless.  If you decide to check them out, feel free to use coupon code "gayelevy" at checkout to get a 20% discount. 
~~~~~
BOGO HIGH POTENCY FORMULAS
20% Off Everything Else Using Code GAYELEVY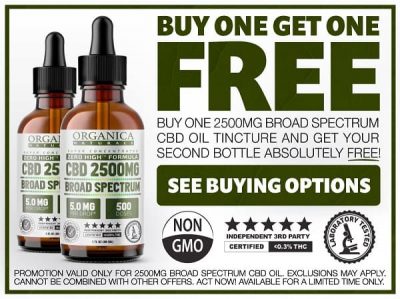 Summing It All Up
Thankfully, I started with a very low dose and achieved my CBD goal early on with just five milligrams of CBD.  On the other hand, my husband started with a low dose and worked his way up to the point where additional dosing provided no further benefit.  He takes a 25mg capsule at night coupled with my CBD salve applied topically morning and night. 
We are both thrilled with CBD and encourage you to open your mind to this fantastic over-the-counter remedy.
Yours for a Joyful Life,
Gaye
Strategic Haul
Note:  I am an affiliate for Organica Naturals and receive a commission when you make a purchase.  That said, I have tried CBD from a number of companies and feel Organica has one of the better products available at a price that is not crazy ridiculous.
It goes without saying that I have become a huge advocate for CBD Oil.  Not the fake stuff you get on Amazon but the real deal.  Interested in learning more?  Here is some recommended reading.
What You Need to Know About CBD Oil
What I Learned Using CBD Oil
Homemade CBD Salve that Really Works
CBD Dosing: How Much CBD Should I Take?
And my favorite CBD Oil company? Organica Naturals is where I purchase CBD for personal use.  I prefer the Full Spectrum CBD Tincture whereas my husband prefers the Full Spectrum Capsules (which are too high of a dose for me). 
BOGO HIGH POTENCY FORMULAS
20% Off Everything Else Using Code GAYELEVY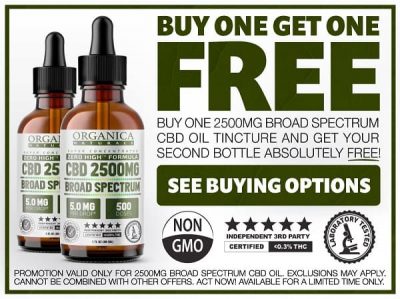 Regardless of what you choose, all Organica Naturals products include free shipping and a 60-day no questions asked guarantee.  Plus, if you use the code "gayelevy" at checkout, you will currently get a 20% discount if no other discounts apply.
~~~~
Like this? Be sure to visit Strategic Living on Facebook and Pinterest!  To learn more about Gaye, visit her ABOUT page.
Stay Informed!  Sign up and be the first to learn about something new at Gaye Levy's Strategic Living Blog