Gratitude does not come naturally to me which makes Thanksgiving especially challenging.  The reasons are many and they are very personal but lest you are curious, I will simply say that I have been a silent warrior for most of life.  Fighting, be it for fairness, justice, acceptance or simply to get by, has defined me.  It lead me into the life I live now and to what I like to call a "strategic life".
That being said, it is my opinion that these days we take gratitude and thankfulness for granted.  I blame it on the clutter and proliferation of minutia of our lives.  Work, chores, social media, and keeping up with the events of the day (whether real or fake), can be overwhelming.  Does that sound like you?
But I digress.  In this week of giving thanks, it is important that we take time to think about the blessings in our life, and enumerate those things for which we are both grateful and thankful.  I will start us off.  
I, Gaye Levy, am grateful for many things:  my husband, my brother and his family, my home, and the blessing of good health  I am grateful that I have saved enough to carry me through (I hope) retirement and that I am well-prepared for disruptive events.  Not to be omitted, I am extremely grateful to have been born in and to live in the USA.
Now it is your turn.  What are you grateful for?
Make Gratefulness and Thankfulness a Part of Living a Strategic Life
There is a lot of discussion around the web about the differences between gratefulness and thankfulness.  Some say that gratefulness comes from within and thankfulness is more outward.  Others say just the opposite.  I say it does not matter.  Instead, what matters is that gratefulness and thankfulness become a part of your daily life.
This quote by Melody Beattie says it nicely:
Gratitude unlocks the fullness of life. It turns what we have into enough, and more. It turns denial into acceptance, chaos to order, confusion to clarity. It can turn a meal into a feast, a house into a home, a stranger into a friend. Gratitude makes sense of our past, brings peace for today and creates a vision for tomorrow.
Summing It All Up
On this Thanksgiving, I challenge you to take a break from any chaos and clutter in your life.  Sit back, close your eyes, and take some time to reflect on what gratitude and thankfulness mean to you. If you do this in a meaningful and purposeful way, I can pretty much guarantee that you will feel uplifted and will have a stress-free holiday.
Have a wonderful Thanksgiving!
Yours for a Joyful Life,
Gaye
Strategic Haul for Black Friday & Cyber Monday
My email box began to fill up a week ago with deals on this thing and that.  This always presents a dilemma for me because I don't want to miss out on a bargain, yet I don't want to purchase a lot of chachkes I don't need.
One sale I take seriously, though, is the sale of CBD products.  Both of my favorite vendors are having site-wide sales so without further ado, let me tell you about them.
Organica Naturals:  By now you know that when it comes to CBD, Organica Naturals is my number one choice. 
I use their Full Spectrum oil at the rate of 5mg/drops a day, taken at night.  That is a tiny dose but plenty enough to foster a deep sleep. 
My husband, Shelly, uses the capsules, taking one 25mg capsule at night.  For him, CBD has been a miracle worker in terms of mitigating shoulder pain, back pain, knee pain and other woes stemming from arthritis and aging.  During the daytime and as needed, he supplements his aches and pains topically with both CBD Salve (that I make myself) and my essential oil salve made with Wintergreen.
For Black Friday, Organica Naturals has a site-wide sale with almost everything at 35% off plus some items at Buy One Get One Free.  Shipping is free and there is a no-questions-asked return policy. 
If you have been wanting to give CBD a try, you can now do so at a bargain price.  This sale runs through Cyber Monday. Because of these deep discounts, no other coupons will apply.
Need something at Amazon?  Who doesn't?
I earn a small commission on your purchase and for that I thank you!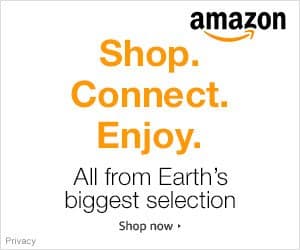 ~~~~
Like this? Be sure to visit Strategic Living on Facebook and Pinterest!  To learn more about Gaye, visit her ABOUT page.
Stay Informed!  Sign up and be the first to learn about something new at Gaye Levy's Strategic Living Blog 

Want to give CBD Oil a try?  Get a 20% discount using code "gayelevy" at checkout.  Free shipping and a 60 day return policy.
~~~