For as long as I can remember, I have wanted to make soap from scratch.  By that, I mean making soap using only the basics of water, fats, and lye.  Yes, lye.  As much as I had the desire, I was scared of the process and the perceived dangers.  I had visions of suiting up in a sick room outfit suitable for treating a patient with Ebola.  That said, with some time on my hands, I decided to do some in-depth research, mostly to get up the nerve to try.  I read blogs, ordered some books, and watched dozens of YouTube videos.  I convinced myself and I could do this and so I did.  The rest is history.
Something I learned right away was that making soap can be a useful, budget-friendly hobby or it can be a money pit, especially at first. As a matter of fact, I used over $30 worth of essential oils in my first 3-pound loaf of soap, and that does not include the cost of the various fats I used, all of the highest quality. 
My very first batch of soap made with lye turned out fantastic, but clearly, as a hobby, I could not afford to continue to spend that much money when making soap just for the fun of it.   So, after a few months of experimenting, I came up with foolproof recipe for making a budget-friendly soap using commonly available, grocery store ingredients.  This is a basic soap.  It cleans well, is sufficiently moisturizing, and pleasant to use.  The use of fragrance is optional and honestly, there is a simplicity in pure, unscented soap that I find attractive.
With that, let me introduce you to crafting homemade soap using the hot process method.
Hot Process, Cold Process, and Melt and Pour Soap
Before we begin, you need to know that there are various methods for creating soap, each with their own sets of advantages and disadvantages.  The most common methods are a hot process, cold process, and melt and pour.  You might recall that I recently shared how to make soap using an easy peasy melt and pour base.  Is there a reason to do something different.  The answer is maybe.
Without getting overly technical, I will describe each method in simplistic terms.
Hot Process:  With this method, your soap batter is cooked over a heat source, typically a crockpot.  When the cooking is done, all of the lye is gone because it has been saponified (turned into soap).  One of the big advantages of hot process is that it can be used right away.  Curing is not required although setting the hot process soap aside for a week or two will allow some moisture to evaporate, resulting in a harder bar.  The disadvantage is that is is a thick batter, not conducive to fancy designs.  Hot process soap looks rustic and homemade, which to me is a positive attribute.
Cold Process:  CP soap is not cooked.  Once the water, lye, and fats are sufficiently emulsified, the soap is poured into a mold to finish the saponification process on its own.  At this point, there is still active lye in the batter.  CP soap must be cured over time so that the resulting soap is not lye heavy and dangerous to use.  The advantage of cold process soap is that it is quite fluid and is easy to customize with fancy designs.
Melt and Pour:  Melt and Pour soap starts life with a soap base that you purchase.  The soap base has already saponified so that are no traces of lye to deal with.  All you do is melt the base, add fragrance, colorants, and possibly other additives.  Pour the melted soap batter into your molds and an hour later you have beautiful soap.  In my opinion, the main disadvantage to MP is that not all melt and pour bases are what I would call natural and chemical-free.  The great majority of such bases include SLS (sodium laurel sulfate) and some, especially those available from hobby stores, are detergent created from a concoction of chemicals plus moisturizing additives.  Like I said, all will produce beautiful soaps that feel good on the skin.  It gets down to a matter of preference relative to the chemical you are willing to put on your skin.  You can learn more about making MP soap in the article I wrote, Super Simple Goats Milk & Honey Soap for First Time Soapmakers.
Speaking of saponification, it is important that you know that saponification is the dynamic chemical process whereby the fats/oils and lye are converted to soap.  When saponification has occurred, there is no more lye and no more fat.  There is just soap.
The Tools
Here are the tools you will need to get started.  Most can already be found in your kitchen.
Scale, preferably digital.  I started out using a postal scale but found it difficult to use.  This $10 kitchen scale works great.

Slow Cooker/Crockpot.  You do not need an expensive crockpot.  I found that I could purchase a new one for less then the cost of a used one at Goodwill.  Whatever you use, make sure it is large enough so that your batch of soap will fill it no  more then half way.  Mine is 6 quarts.

Stick Blender, also called an Immersion Blender.  I went for the least expensive stick blender I could find.

Spatulas.  I got some from Dollar Tree that I could dedicate them to soap making.

Measuring containers.  You need these to measure your ingredients.  Except for the container used to measure and mix lye, they do not have to be dedicated to soap making.

Goggles (for eye protection)

Gloves.  I had some rubber gloves so I used those but I could have easily used nitrile or latex gloves instead.

Soap Mold/Container.  You are going to want to use a mold that will produce a block of soap and not individual molds.  I happen to purchase mine but you can also use a milk carton, plastic Tupperware-like container, or even an ice cream carton.  If you do purchase molds, look for those made of silicone.  This recipe takes a smallish mold that holds one pound but you can get them in a variety of sizes.

Sharp Knife or Soap Cutter.  Totally optional but these stainless soap cutters are a blessing for those of us with a bit of arthritis in our hands and fingers.
Prep Work
The very first thing you need to do is set up your prep area.  This is really very simple.  I get out the crockpot and other tools, protective gear, damp rags and all of my ingredients.  This may seem obvious but in reading the various online forums, I have heard of batches that were ruined because one of the oils was omitted throwing off the saponification process.  As I do when making salves, it makes sense to get everything out from the get-go.  This is also a good time to ensure you are wearing closed toes shoes and long sleeves.  I also wear an apron to prevent splatters on my clothing but that is totally optional.
Next, you want to measure your ingredients.  This starter recipe includes only a few ingredients, making it easy.  To measure your ingredients, you are going to want to always use weight and not volume.  That is why you need a scale, preferably digital.  What you are going to do is put your measuring container on the scale, zero it out using the "tare" button, then carefully measure your ingredient.  If you get too much in the container, take a spoon and take some out, trying to get as close to the actual measurement as you can.
When it comes to measuring your lye, be sure to wear goggles and gloves since you do not want to splatter any of the lye on your person and especially in your eyes.  If you do happen to get some lye on yourself, flush well with cool water for 15 minutes and in the case of your eyes, seek medical help immediately.
After everything has been measured, set your ingredients aside.
The final bit of prep is to fill a sink or dishpan with dish soap and water.  You will use this soapy water to soak your tools when you are done with them.   Don't worry, the residual lye will not harm your sink or your drain.  Lye is, after all, drain cleaner.
Budget-Friendly Hot Process Soap:  The Recipe
I have now made this recipe close to a dozen times and have not had a single fail.  This recipe will make one pound of soap, which, depending on how it is cut, 4 to 5 bars of soap.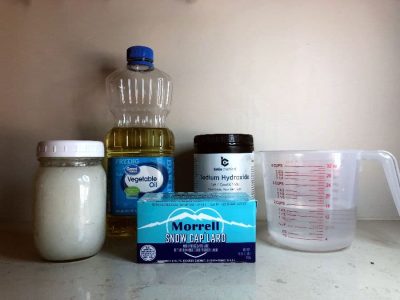 Ingredients:
4.8 ounces Coconut Oil
8.0 ounces Lard
3.2 ounces Soybean/Vegetable Oil
4.65 ounces Distilled or Filtered Water
2.32 ounces Lye (I purchase food-grade lye on Amazon)
1 teaspoon Salt (optional)

Directions:
After setting up your prep area, measure all ingredients as precisely as you can.  Check and double-check that you have not left anything out.
Place the water in a heat-resistant container.  I use an old Tupperware pitcher but any reasonably tall container will work as long as you avoid aluminum which is reactive with lye.
Add the salt to your water and mix until dissolved.  Although optional, the salt will increase the hardness of your soap.
Carefully add the lye to the water, stirring gently with a spatula. I hate the fumes so I do this outdoors but if you do this inside, make sure there is good air circulation or wear a mask.  Do not get alarmed if the lye mixture and its container gets hot; that is what lye does when mixed with water.  When all of the lye crystals have dissolved, set the lye-water aside to cool down. 
Important:  Always add the lye to the water and not the other way around. 
Put the fats, in this case, lard, coconut oil, and soybean oil in the crockpot to melt.  I typically put them in the crockpot on medium and walk away for 10 or 15 minutes while they are melting.  When fully melted, give them a good stir with your spatula and turn off the crockpot.
Carefully add the lye water to the crockpot.  A good way to avoid splatter is to slowly pour the lye water over a spatula held right above the melted oils.
Stir gently with a spatula then, using your stick blender, start blending the mixture until it thickens.  You are going to want to keep the blender completely immersed to prevent splatter.  Stick blenders tend to overheat so blend for a minute then stop for a minute.  Keep doing this until your batter is thickened, somewhat like a light pudding.  This is called "trace".  You will know you have reached trace when you can dribble bits of soap batter on top of itself and it leaves a slight pattern or trace of where it dribbled.  For me, using this recipe and my stick blender, this step takes about 10 minutes.  Your actual time may vary depending on the power of your stick blender and the recipe you are using.
Soap batter has reached trace
Note:  I have made this recipe a number of times, sometimes allowing the batter to stay pretty loose and other times thick enough to create peaks like with whipping cream.  In all cases, my soap came out fine.
At this point, turn the crockpot to low, cover, and let your batter cook.  Some soapers stir the soap every fifteen minutes or so, and I did so at first.  Now I tend to simply let the batter cook, keeping an eye on it as it goes through its various phases until it is done. During this time, if you start to see your soap batter crawl up the sides of the crockpot, simply stir it down.  The important thing is to keep an eye on things and not walk away, eat lunch, or fiddle around on the computer.
Soap is starting to cook.
Note that the edges are becoming translucent but the center is still opaque.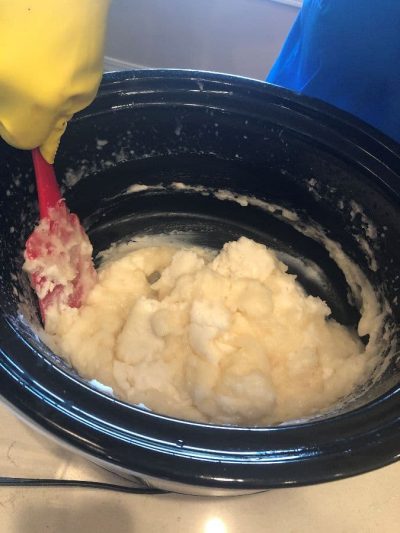 Almost done!
Your soap is done when it becomes totally translucent and gel-like.  Some books and online sources say it looks like Vaseline but it never really looks that way to me.  My soap usually reaches this point after 45 minutes to an hour.  Still, because I am a nervous nelly, I always let my batter cook a minimum of 60 minutes and sometimes longer, keeping the crockpot on low.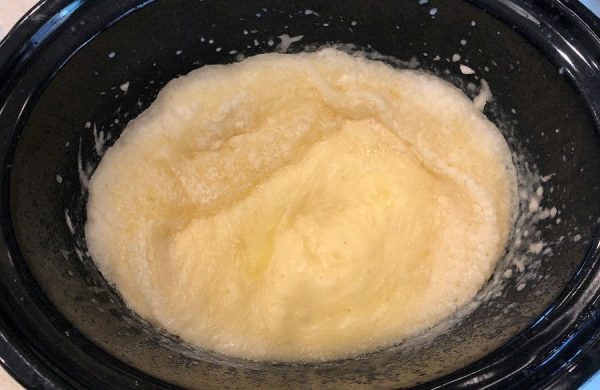 Soap is done.
Notice that it is completely gel-like.
At this point, you can test your soap to ensure that it is done using one of the methods below.
Scoop your soap into your mold.  As you do, tap the mold against the counter a couple of times to ensure that there are no air pockets.  If your mold is full and you have a bit extra, let the batter cool for a few minutes then scoop the remaining batter into your hands and create a "soap ball".  These soap balls will harden and can be used just like a bar of soap.  (Thanks, Heidi Villegas, for telling me about soap balls!)
You will notice that the top of your loaf is a bit messy.  Not to worry, that is the nature of hot process soap.  Remember when I said it looked rustic?
This is what the soap will look like after it is scooped into a mold.
Let the soap harden in the mold for 24 hours.  It should easily release after that but if not, pop it in the freezer for 30 minutes or so and try again.
The final step before cleanup is to cut your soap into bars.  I now use a chopper to cut my soap but before that, I used a chef's knife.  Hint:  Perhaps the most important tool I found for cutting soap is a used emery board that I use as a guide to create nice even slices.
Your soap can safely be used immediately but does benefit from curing for a week or two.  During that time is hardens a bit, making it longer lasting in the shower.
Cleanup
Because your soap is fully saponified and there is no residual lye, cleanup is a breeze. 
I wash everything in my sink and, in the case of the containers used to measure the oils, put them in the dishwasher.  Be forewarned that your crockpot will be very soapy since there will be dried up bits of cooked soap along the walls of the crock.  The easiest thing to do is let the whole thing soak overnight to loosen the dried up soap, then rinse and dry the next morning.
Should you dedicate your crockpot and other utensils for dedicated soap use? The jury is out on that one.
I have dedicated the tools I use to make soap to soapmaking only because I like to keep everything in a big bin I can pull out as needed.  That said, in reading the online forums I have learned that occasional soap makers use their food making tools and utensils for soap making.  The only exception is the containers used for measuring and mixing up the lye and lye water.  I have used a sharpie to label those containers to ensure I do not use them for food preparation.
How to Test Soap Batter for Doneness
You can do this one of 2 ways.   One is the "zap test" where you take a little piece of soap batter, let it cool for a moment, and touch it to your tongue.   If it zaps you, it needs more cooking.  I tend to cook my soaps for a long time so I have never been zapped.  Thankfully.
Another way is to use PH strips. Take a small bit of batter and mix it with a small amount of water.  Using a PH stick, check to see if the range is between 7 and 10.  If so, your soap is done.  If it is higher, keep on cooking.
There is actually a third way but I don't know how proven it is.  Sprinkle a drop of blue food coloring, the kind you get in the baking aisle in the grocery store, on a small dab of batter.  If it stays blue, your soap is done.  If it turns pink or purple, it needs more cooking.  If you want to learn more about this method, check out this video on YouTube.
What are these Soap Making Phases I Keep Hearing About?
As your hot process soap cooks, it will go through various phases.  To be honest, I was confused by this because it did not appear that every batch went through every phase.  Still, you can use these phases as guidelines to assess how far along your batter is and to determine when it is done.
Initial Cook:  The soap batter on the outside edges of the crockpot are bubbly and a bit translucent while the center is opaque and looks a bit like cheesecake, or at least that is what it looks like to me.

Mashed Potatoes: The soap batter looks like mashed potatoes.  It is mostly opaque with a few translucent spots here or there.

Vaseline:  The soap will be gel like and a bit bubbly in appearance.  There will be no opaque parts other than crusty bits that are a result of stirring down the dried bits that accumulate around the outside of the pot.
In my opinion, total time is more important than watching the soap batter go through its various phases.  It is the final, translucent and gel-like phase that counts.  As long as you monitor the process and stir things down if you notice the soap batter crawling up the sides, you will be fine.
What is the Cost?
From the beginning, I have wanted to create a soap that did not require fancy oils that are pricey.  Yes, fancy oils do produce a lovely artisan soap but in my usual walk before you run style, I wanted to drill down to the basics.
For this recipe, I priced all of the ingredients at my local Walmart and came up with a total of $2.37 for a one-pound loaf of soap.  Depending on how large you slice the bars, you will get 4 to 5 bars of a wonderful, all-natural soap at a cost of 47 to 59 cents per bar.  I challenge you to find a commercial bar of real soap that is 100% natural (and not a beauty bar or detergent) for less than $3.
A Word About Fragrance
Using fragrance is something you may eventually want to do.  Be aware that you will need approximately 1 ounce, by weight, of fragrance per pound of oils.  Can you see the dollar signs, especially when using high-quality essentials oils?
After my first, very expensive foray in using essential oils in soap, I purchased some high-quality fragrance oils instead.  Sure, they are synthetic and not natural per se, but the variety and price make them very attractive and let's be realistic.  The fragrance in a soap assaults your nose for just a moment and may sit on top of your skin for a minute or two.  Very little, if any, is absorbed by the skin.  Ultimately, the decision to use essential oils, fragrance oils or none at all is one that each soap maker must make based upon their own needs and beliefs.  
That is not to say that I no longer use essential oils in soap.  I do use them along with shea butter, sweet almond oil, olive oil, and other goodies when making certain artisan-style soaps. I love the luxurious feel of those soaps and they make wonderful gifts.  But to make a true, budget-friendly soap for day to day use, I either leave the soap unscented or use fragrance oil.
If you do decide to add fragrance, whether an essential oil or fragrance oil, add it at the very end.  When your soap is done, turn the crockpot off and let your batter cool for about 10 minutes with the lid open.  Add your fragrance, stirring it in like crazy.
Colorants
For now, I have avoided the use of colorants other than those inherent to the fragrance or herbs and spices I have added for a swirl effect.
To get the orangy-red swirl below, I stirred a teaspoon of paprika into the soap before glopping the batter into the mold.  The purply soap up the upper right-hand corner is the result of using patchouli and cedarwood essential oils and cinnamon, mixed in at the end of the cook.  The brown swirls in the soap in the lower left-hand corner were created with cinnamon powder. 
Feel free to experiment with the herbs or spices you have on hand or simply leave your soap uncolored.  I personally think the creamy ivory look of uncolored soap is lovely.
Safety
I have included a number of safety tips throughout this article but because they are important, let me repeat them again.
Suit up before you start.  No, you do not need to look like an astronaut in a spacesuit but you absolutely must wear protective goggles,  rubber gloves, and close-toes shoes.  A long-sleeved shirt is also a good idea.
Always add the lye to the water and not the other way around. 
Keep an eye on your soap as it is cooking.  It has not happened to me but I have been told that sometimes, your cooking soap will volcano.  What this means is that it will crawl up the side of your crockpot and suddenly overflow.  If you see the soap batter rising, remove the lid and stir it back down and you will be good to go.
Tips for Success When Making Hot Process Soap
Here are some tips I have learned along the way.
Clear the decks before starting.  By that I mean stow away your pets and kids or grandkids.  You want 100% of your focus to be on soap making.

I have found that molds with individual soap cavities do not work with HP soap.  It is better to use a loaf mold, whether a rectangle or a square and cut the bars yourself.  A silicone mold is well worth the nominal cost.

Set aside plenty of time and don't be alarmed if it takes more time to measure out the ingredients with accuracy then it does to make the soap.

The Dollar Store is your friend.  I have picked up spatulas and mixing containers for a dollar apiece.  At that price, it is easy to dedicate them to soap making.

Make sure your lye (also known as Sodium Hydroxide) is 100 pure.  Most drain cleaners found at the hardware store are 100% sodium hydroxide but some are not.  I play it safe and use food-grade lye that I purchase online at Amazon.

As you branch out, get to know and learn how to one of the free, online soap calculators.  Depending on the oils you use, the amount of water and lye will change. Making soap is a chemical process and getting the proportions right is ingredient dependent!

Check labels when shopping for Soybean Oil.  At both Safeway and Wal-Mart, it was labeled "Vegetable Oil".  I have read that Soybean and Canola can be interchanged because they have virtually the same saponification values but I have not tested this myself.  All the more reason that if you plan to change things up, learn to use an online soap calculator.

Any recipe suitable for cold process soap is suitable for hot process soap.  The only difference is that cold process soap is not cooked.

Finally, practice using a basic recipe such as this one.  Do not make substitutions.  Ever. 
Resources
Some resources are better than others.  For watching the process in action, nothing beats a YouTube video.  For me, though, there is power in books and in online forums/discussion boards.  Here are my recommendations.
Hot Process Soap Making: How to Make & Customize Your Own Natural Hot Process Soaps: Written by Heidi Villegas (Healing Harvest Homestead), this is the book that started it all. After reading this book, I got up the guts to try.  I learned a lot from this book and still refer back to it.  And by the way, although not a budget soap, the "Wild Sexy Man" soap is fantastic!
Smart Soapmaking: The Simple Guide to Making Soap Quickly, Safely, and Reliably:  I was first introduced do this book when having dinner with the author, Anne Watson, when I lived on San Juan Island in Washington State.  Although she writes about cold process soap, her description of soap making is universal and her recipes are interchangeable with hot process soap making.
Online Soap Making Forum::  I visit this online soap forum almost daily.  If browsing forums is your thing, you will love.  Everyone is friendly and there is a section for beginners.  Highly recommended.
Online Soap Calculator:  As you expand your knowledge and want to create your own unique recipe using different fats, butters, and oils, SoapCalc is your friend.  It takes some getting used to and there is a learning curve so even though you might not be ready yet, I list it as a resource.
The Prepping Angle
I call this hot process recipe "Prepper-Friendly Soap" and for good reason.  The ingredients are cheap and they have a long shelf life in their own right.  They are 100% natural and non-toxic.  At a time when hygiene is super-important, it will be critical that plenty of soap be available for cleaning not only your body, but your hair, your clothes, and the surfaces around you.  In addition, homemade soap will be excellent for barter.
This soap should have a long shelf life, measured in years not months.  It can be grated for use in the laundry and a bar of this soap makes an excellent stain stick.
What is not to like?  Every prepper, in my opinion, should have a good supply of soap in their pantry and if they have the raw ingredients for making the soap, so much the better.
But there is something else.  In the old days, housewives made soap over an open flame.  Yes, hot process soap is nothing new.  It may be tedious to make soap over an open flame and stirring by hand but it can be done.  
Summing It All Up
I am obsessed with soap making.  You might even say addicted.  That means that at the rate I am going, a year from now I will have enough soap to last a couple of lifetimes.  Still, as with any hobby, I love the personal feeling of accomplishment I feel with each batch I create as I continue to hone my craft.
And what about all of that extra soap?  I am packaging some of it up in individual cellophane bags to give to a local senior home and a shelter for battered women.  If I can find a suitable Veterans organization, I will do that too.
In closing, I want to remind you that soap is for cleaning.  Along with water, it all goes down the drain when it has served its purpose.  For that reason, there is no reason to use use the highest quality oils and fats when making soap and indeed, using lard or even tallow will produce some of the nicest, creamiest soaps you will find. 
Remember, in soap making, as with all things, start with the basics and move on from there.  Or not.  Have fun with it and don't say I didn't warn you if you become addicted!
Yours for a Joyful Life,
Gaye
Strategic Haul
I could list everything mentioned in this article but honestly, who is going to go online to purchase lard and soybean oil?  That said, here are some tools that will make your soap making life easier and a lot more fun!
Etekcity Food Digital Kitchen Weight Scale:  I use this scale every single day.  Not only do I use it for soap making, but since my husband is on a Keto diet, I weigh out ingredients for baked goods and other goodies that are low-carb and Keto friendly.
Square Soap Mold:  A small, squarish soap mold is perfect for one-pound batches such as this one.  I purchased mine at Brambleberry.com but to be honest, the shipping cost was obscene and it took forever.  If I had it to do all over again, I would get this one instead.
Stainless Soap Cutters:  Although these fall into the "nice to have" category, they really are useful and much easier to use than a knife. 
Sodium Hydroxide – Pure – Food Grade Lye:  Food-grade lye is not necessary but 100% lye with no additives is.  Perhaps it is psychological, but knowing that the lye I use is food-grade feels better to me than using drain cleaner in my soap.
Hot Process Soap Making: How to Make & Customize Your Own Natural Hot Process Soaps: Written by Heidi Villegas (Healing Harvest Homestead), this is the book that started it all.  After reading this book, I got up the guts to try making soap from scratch.  I learned a lot from this book and still refer back to it.  And by the way, although not a budget soap, the "Wild Sexy Man" soap is fantastic!
Note:  If you are a visual learner, check out Heidi Villegas (Healing Harvest Homestead) new online course Natural Soap Making with the Hot Process Method.  Sign up for the course and get the ebook for free.  Not only that, until September 23rd, you can get the course for 30% off with the code LOVESOAP.  This is a super deal you will not want to miss!
Smart Soapmaking: The Simple Guide to Making Soap Quickly, Safely, and Reliably:  I was first introduced do this book when having dinner with the author, Anne Watson when I lived on San Juan Island in Washington State.  Although she writes about cold process soap, her description of soap making are universal and her recipes are interchangeable with hot process soap making.
~~~~
Like this? Be sure to visit Strategic Living on Facebook and Pinterest!  To learn more about Gaye, visit her ABOUT page.
Stay Informed!  Sign up and be the first to learn about something new at Gaye Levy's Strategic Living Blog 

Want to give CBD Oil a try?  Get a 20% discount using code "gayelevy" at checkout.  Free shipping and a 60 day return policy.
~~~