Last week I was asked about how I am currently using CBD and specifically, how my husband was using CBD to conquer arthritis and joint pain.  This was a timely question given that I recently developed a simple to make and simple to use rollerball/roll-on formula using CBD oil, essential oils, and fractionated coconut oil. 
Why a roll-on formula? 
As much as I love using all manner of salves, including CBD salve, a rollerball bottle is super portable.  Furthermore, concocting a rollerball is as easy as adding CBD and essential oils to an empty bottle then topping with a carrier oil. There is nothing to melt, mix, or dissolve.  Not only that, chances are the CBD you already have on hand is an oil and not a powdered concentrate or isolate.  That means there is one less thing to buy.
I am thrilled to share my rollerball and essential oil formula with you and if it helps just one person get relief, the effort will have been worth it.
The CBD Backstory
Before I share my CBD Rollerball recipe, let me give you a bit of the backstory. 
As I wrote in May 2019, I started studying the benefits of CBD in order to determine whether it would help with two things: getting a night of restful sleep for me and resolving severe hand, shoulder, and back pain for my husband.  After checking with our healthcare providers, I purchased some CBD oil and CBD salve. You can read that article here.
The results were remarkable. 
For the first time in years, I slept through the night with just a single trip to the bathroom and even then, I fell right back into a sound sleep.  Not only that, I found that after my head hit the pillow, I was asleep in minutes.  Shelly's arthritic aches and pains became tolerable and he too experienced a sound sleep.  He stopped seeing a pain doctor.
A key component in the aches and pains equation was using both CBD oil as well as the topical CBD salve.  Alas, purchasing a CBD salve is a pricey proposition so I learned to make my own.  Layering the CBD salve with an essential oil salve (Miracle Salve, Wintergreen, or Frankincense) seemed to compound the benefits and indeed many commercial CBD salves do include essential oils.
Long story short,  CBD in various forms became an important part of my household wellness plan.  It became so important, that I started to experiment with other uses and other types of CBD applications.  Thus, the rollerball formula was born.
How to Make a CBD Rollerball (aka CBD Roll-On)
The instructions for making a CBD rollerball are very simple.  The most difficult part is determining how much CBD to use to get results.  Not to worry, though, because I have figured that out for you.  I am going to share two versions with you with the only difference being the combination of essential oils.
CBD RollerBall #1
20 MG CBD Oil
5 drops Birch essential oil
5 drops Lemongrass essential oil
Fractionated coconut oil or other carrier oil
10ml Rollerball  (like these)
Add 20mg CBD oil and essential oils to your empty rollerball.  Top with FCO (as fractionated coconut oil is called).  You can also use sweet almond oil, jojoba oil, or some other carrier but I prefer FCO because it is less greasy and absorbs instantly. 
You might notice that I do not give you the number of drops of CBD oil to use in your rollerball bottle.  That is because the number of drops that equals 20mg may vary depending on the strength of your CBD.  This is more thoroughly explained in the article CBD Dosing: How Much CBD Should I Take?
This is the formula I recommend for arthritis and joint pain. 
Why birch?
Birch essential oil contains both salicylic acid and methyl salicylate, both of which have a cortisone-like quality that reduces discomfort in the muscles, bones, and joints.  It is an effective anti-spasmodic and anti-inflammatory which makes it perfect when trying to relieve the pain of arthritis, tendonitis, gout, and severe muscle cramping. 
The second essential oil, lemongrass, has similar qualities to birch essential oil.  It is an inexpensive oil but do not let the bargain price fool you.  Lemongrass is a strong anti-inflammatory and a powerful analgesic.  It provides immediate topical pain relief when applied to the skin and reduces inflammation.
Note:  Birch is a very strong oil and if used undiluted may cause irritation.  In addition, Birch should be avoided by those who use blood thinners, have epilepsy or women who may be pregnant. If you fall into one of the categories, I suggest you skip the Birch essential oil and use 10 drops of lemongrass essential oil.
CBD Rollerball #2
20 MG CBD Oil
5 drops Peppermint essential oil
5 drops Eucalyptus essential oil
Fractionated coconut oil or other carrier oil
10ml Rollerball  (like these)
The directions are the same as CBD Rollerball #1.  Add 20mg CBD oil and the essential oils to your empty rollerball.  Top with FCO or another carrier oil.
This is the formula I use for foot, toe, and leg cramps.  I roll on the oil, and within one minute the spasms stop.  It is like a miracle.
At first, I was planning to use menthol in my rollerball formula but ultimately chose peppermint essential oil instead.  Menthol is actually derived from peppermint so it seemed to be a logical choice.  Both peppermint and eucalyptus are anti-inflammatory and provide powerful pain relief.  The oils are also readily available.
With both formulas, the EO dilution is a skin-safe 5% dilution.
Additional reading:  Homemade CBD Salve that Really Works
A Word About CBD Oil
It took a lot of time for me to jump on the CBD bandwagon and I only did so after doing a lot of research and after checking with my personal healthcare providers.  Although I have outlined this in my previous articles on CBD oil, it bears repeating.  We are going through a period not unlike the wild, unchartered West when it comes to CBD oil.  Whereas you can find a ton of information online, some of it is questionable and it is difficult to discern fact from fiction.
My advice?  Do your own research and use good judgment.  If something seems off relative to the claims being made, move on.  Also, if the price is too good to be true, run.  CBD is not inexpensive.
Perhaps most important, talk to your healthcare providers, especially if you take medication for serious health issues.   Every single one I talked was more than happy to share their thoughts and was appreciative of my keeping them in the loop.
Finally, as with essential oils, there are good providers and bad providers.  Some will rip you off by providing a less than pure product with inferior carrier oils.  On the other hand, many providers will offer a wealth of educational material and will make themselves available to answer your questions by chat or by phone.  A good provider will stand by their product with a 30 or 60-day money-back guarantee as well as free shipping.
I get my CBD from  Organica Naturals and could not be more pleased with their products and service.  And yes, although I am an affiliate and earn a small commission on sales, I would purchase CBD oil from them regardless.  If you decide to check them out, feel free to use coupon code "gayelevy" at checkout to get a 20% discount. 
~~~~~
BOGO HIGH POTENCY FORMULAS
20% Off Everything Else Using Code GAYELEVY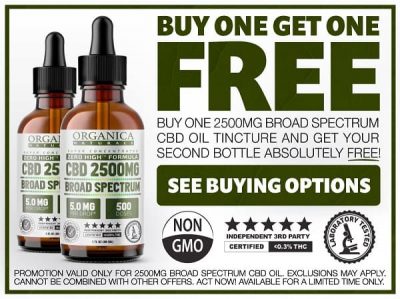 Summing It All Up
I have a few more things I would like to say about CBD. 
First of all, this summer I increased my own dose from a measly 5mg to 10mg.  Although I am not a particularly anxious person, I wasn't sleeping as well as I was earlier in the year and needed a bit more help.  As I explained a few weeks ago in my opinion piece, fear, mild depression, and anxiety have come from the isolation and social distancing mandated by COVID and a divisive country.  As well prepped as I am, my psyche was not prepared for this.
Second, I have doubled Shelly's dose from 25mg of CBD at night to 25mg of CBD tincture (oil) both and in the morning and at night. The PM CBD prevents him from waking up at night, rolling over, and experiencing back pain.  The AM CBD helps him get through the day pain-free.  The salves and rollerball formulas get him out on the golf course without experiencing spasms or a lack of mobility in his hands. 
Let's face it.  Getting old is not fun but we really do not have a choice in the matter.  Honestly, I can not believe that I am seventy years old.  In my mind, I am still a young woman of 40.  That being said, it is my intent to live as long and as comfortable as I can. 
I wish the same for you.
Yours for a Joyful Life,
Gaye
Strategic Haul
Here are the supplies you will need to create your CBD rollerball.  For many of you, the supplies will be on hand.
Organica Naturals CBD Oil:  This is my preferred brand.  Get a 20% discount when using code "gayelevy" at checkout.  For a limited time, however, use code HEALTHASSIST77 for a whopping 40% off.
10ml Rollerball Bottles:  I go through a lot of rollerball bottles so when I need more, I purchase a large quantity.  Vivaplex is one of my favorite brands for jars and bottles.  This is a link for 6 rollerball bottles and this is a link for 24.  Whatever you chose, be sure to select a dark-colored bottle to protect your precious oils from light.
Fractionated Coconut Oil:  FCO, as it is called, is liquefied coconut oil.  Fractionated coconut oil has been treated with heat so that it does not solidify at cooler temperatures.  It is for external use only.  My preferred brand is Plant Therapy. By the way, if you already have MCT oil, you can use that instead of FCO.  They are essentially the same, although MCT is a food-grade product whereas FCO is a cosmetic grade.
Birch Essential Oil:  I believe Spark Naturals has the best birch essential oil out there.  Whereas I no longer purchase directly from their website, their high-quality oils are available on Amazon.
Lemongrass, Peppermint, and Eucalyptus Essential Oils:  Most of my newer essential oil purchases are the Plant Therapy brand.  Plant Therapy essential oils are very high quality and have been independently tested to ensure they are authentic. If I were to recommend a single EO brand, it would be Plant Therapy.
~~~~
Like this? Be sure to visit Strategic Living on Facebook and Pinterest!  To learn more about Gaye, visit her ABOUT page.
Stay Informed!  Sign up and be the first to learn about something new at Gaye Levy's Strategic Living Blog 

Want to give CBD Oil a try?  Get a 20% discount using code "gayelevy" at checkout.  Free shipping on orders over $100 and a 60 day return policy.
~~~