For those of you that don't know, Samantha Biggers is the editor in chief at Backdoor Survival.  We became friendly shortly after new ownership took over and I did my best to mentor her relative to the ins and outs of full-time blogging.  Since then, I have grown to respect her opinions and her lifestyle which are both pretty remarkable given that she is a Millennial.  You know, a member of the younger generation that is not known for independence, belief in free speech, and the other rights us "grays" hold near and dear to our hearts.
A few months back I asked Samantha if she would be willing to subject herself to an interview and she agreed.  It has taken me a while to post this, not through any fault of Samantha, but because of the personal funk I have experienced as I watch the degradation of what I perceive as the erosion of our freedom.  You may recall I recently wrote about that in "Is American Freedom Under Siege?". 
A must-read if I do say so myself.
More to the point, you should care about Samantha Biggers because she represents forward-thinking while at the same time embracing a traditional lifestyle of homesteading and preparedness.  While I do not always agree with her, she represents our future and that gives me optimism.
An Interview with Samantha Biggers
1.   Let us start out by learning a little bit about you.  Most folks do not realize that you spent a part of your youth in the Pacific Northwest.  Tell us about that and how you ended up where you are today.
Both of my parents were from North Carolina originally. My mother was very young when she left North Carolina with her parents that were following the logging jobs. My Dad went out west a few years after he returned home from fighting in the Vietnam War. He was in the jungle most of his time there. That was 1967-68.  My folks met at the Sparkle Shop Laundromat in Sedro-Woolley, Washington and got married in the early 70s.

I was born in the 80s right after my Dad built a small house in the North Cascades of Washington near the town of Forks. I just remember it a little bit because I was only there a short period of time and was so young. My mother could not handle the isolation and spent too much time on the mainland, not the peninsula. We eventually moved to Hamilton, Washington unfortunately. Even back then it was a logging boomtown that had went under.

There were 200-300 people when I lived there. There were too many drugs and crazy people and no opportunity. I spent a lot of my time running the banks of the Skagit River away from all of it. My mother abandoned my brother and me when I was 4 and he was 12 or so after a series of affairs. She raised a second family a few blocks away in another house. It was weird. She could have moved anywhere in the county but she moved there. As a result, I was raised by my father. My mother's brother lived with us too after a failed relationship.

So I was raised by a Vietnam veteran and my biker Uncle. He moved out after 8 years or so. I really wanted to get out of that town so from 12-16 my Dad and I figured out how to do it and made a plan. I thought it would never happen but a week after I turned 16 I got on a Greyhound bus with a few bags and literally left my entire life behind. It was the best decision I ever made overall. I always tell people to not get on the bus. The situation I was in was one of the times it was a good idea.

I spent 2 years living with my Dad and family in Western North Carolina. I had never met any of them before. Since I was homeschooled from 7th grade and on, I had time to start a small herd of goats and raise some Great Pyrenees dogs. At 18 I applied and got accepted to Warren Wilson College and that is where I met my husband Matt. You had to work to go to our college so I worked on the Natural Resources Crew part of the time I was there.

We spent two years in Alaska working after college and then came back here and settled on 11 acres, built a house, farmed, started a vineyard. Matt and I have been together for more than 15 years now. We are both 36 now. He is my best friend.
2.  As a writer and blogger in the survival, prepping and homesteading niche, what are you personally preparing for?
I prepare for the small and more likely events first and the big ones second.

I think that helps one to not get overwhelmed and disorganized. A lot of preps are good for a variety of situations. Becoming too focused on a single event can lead to looking over some things.

For example, if you start out prepping and you are preparing for an EMP, it is easy to get caught up in making Faraday cages and worrying about your gadgets when you should be dedicating most of your prepping budget to getting your basics covered: Food, water, medical, and defense. Those four basics are things to consider for any emergency. I am not saying don't spend some time on the Faraday too but don't fall in the trap of thinking too much about one single event and dedicating all your time to one aspect of that event.

Where I live getting snowed in for days is one of the most likely things to happen. Last year we stayed at home for 8 days and could have stayed longer. People need to be prepared for that type of thing. We saw a storm was coming, bought a few additional supplies and stayed home. Within 2 days of the snow falling, people around us were getting stir crazy and going out despite the dangers.

If you want to be good at surviving you need to get used to being with who you live with. If you cannot stand to be stuck at home with people for a few days or you don't have the supplies to do so, then you need to ask yourself why and make some changes.
3.  Do you feel you are adequately prepared and if not, what prep area concerns you most?
A nuclear event is the one event that I feel that practically no one is adequately prepared for including myself. Many of the nuclear facilities in the United States are well past the life span they were intended and they are not well maintained. Then there is the possibility that one day some mad person is going to launch a nuclear warhead.

I do keep radiation tablets for everyone in the household but I plan on creating a kit that is solely dedicated to surviving a nuclear event if we are in a fall out zone. We live within range of Oak Ridge, Tennessee where they dismantle nuclear devices from what I can gather and the Oconee Reactor is about 35 miles as the crow flies.
4. What would be your first prep-step if you were a millennial just getting started?
I think that millennials face the challenge of being afraid that prepping will get them labeled a nutjob, right-winger, or paranoid fool. Look up prepper on Google Images and see what you find.

The last few times Matt and I have done this it was a large white male with a gas mask, a low level of physical fitness, and a lot of tactical gear. The reality is that prepping is about being prepared for what life throws at you, not living your life in fear or thinking about the worst possible thing all the time. Millennials see shows with titles like "Doomsday Prepper" and that does a lot of harm.

Millennials should start out by putting together a good kit for a few weeks and go from there. I know that the economy has made it tight for a lot but getting started is the most important thing. A water filter, food, medical kit, emergency radio, and some backup power are a good place to start.

I cannot emphasize enough the need for gaining skills. Millennials often grew up in homes where they were not shown how to do things that are considered basic. I am not trying to talk bad about the millennial generation. It is not all their fault that they don't know how to do some things. I had to teach myself to cook because what little time I was around the women in my family, they would not let me do anything in the kitchen. Nowadays there are a ton of online and physical classes.

YouTube has a ton of videos and books are also inexpensive. Learn as many useful skills as you can. I helped build a house without any building experience at all! My husband had some carpentry experience but he had never built a house before either. You can do a lot if you take the time to learn.
5. Have you ever lived through a real disaster and therefore had to get by on only your wits and your preps? If so, for how long?  What were some of the mistakes you made along the way?  If not, what steps have you taken to ensure that you and your family are disaster-proof?
I have been through some catastrophic 100 year even floods. It destroyed the houses of some people I knew. Our house was built 4 feet off the ground but there was one flood where the carpet still got wet. Other people had 8 feet of water in their homes.

Usually, you were only stuck at a hotel for a few days. People that were smart about it always kept a little cash on hand to rent a room for a few days during flood season. FEMA always offered disaster reimbursement after if you applied but that could take some time to get any money back.

I was just a kid so it was a little different for me than it would be now. My Dad was always a prepared person. He would come get me at school and evacuate sooner than other people to get ahead of the game. Part of the reason for this is that in the flood of 1990, we left just a little later than usual and got stuck at a more expensive hotel. I remember looking out the window at 7 years old and being horrified that I was forced to live in a city for a few days with all that pavement. I didn't like it.

Nowadays I live at 3000 feet on the side of a mountain. Snow and rain can be problematic. We just keep an eye on the weather forecast and make a trip to town to top off our supplies if the weather is taking a turn for the worse. We go soon enough to beat the crowds.
6. What is your favorite survival, disaster, or post-apocalyptic film or TV show?
I would have to say Red Dawn '84 and The Postman. I grew up in a house without cable tv so I really don't watch that much of it. I used to watch Red Dawn with my Dad or brother when I was little and we rented a VCR and tapes. The Postman I got to see at the movie theater with my Dad and Uncle and I remembered liking it. We got the book and I read it. The book is better than the movie.

I don't watch prepper or survival reality shows. I think about this stuff enough without that. I think a lot of them do not do the prepping community any favors.
7.  Do you ever suffer prepper or homesteading burnout and If so, how do you deal with it?
Ok. This is going to sound crazy but I don't want to sugarcoat this. I was raised by men so I am not that ladylike when I need to let loose.

1. I go drink beer or wine with my Babydoll Sheep and feed them toast or corn.

2. Loud music

3. Play with my dogs

4. Shoot guns in the range in the woods

5. Sometimes all of the above in a single day or afternoon

6. Spa time at home. I have a weakness for high-end skincare and spa stuff but I never go to a real spa. I watch out for deals and buy beauty subscription boxes where you get $200 worth of products for $20. You might find me at home doing a face mask and working through a SHTF School online course. I definitely have done that before.

7. I talk to my colleagues and friends in the prepping community around the world. A lot of the people that write for a lot of the highly read prepping sites have become a lot more to me than just an internet presence.
8.  I believe that living a strategic life is something each person must do on their own terms.  How do you and Matt quantify living a strategic life and what goals have you set to ensure that you live a joyful life going forward?
We struggle with how to get everything done in the day. We actually feel burned out more than we should. Over the last 11 years, we have literally gone from a tent to a house, farm, and vineyard. We rarely had any help in the form of other labor. Finding a balance is always a challenge.

Our vineyard is one of our long term plans. We hope to one day be able to build a small winery and have that as a business. It is hard because we are doing it a little at a time.

Starting a vineyard and winery is something people that have a ton of money usually do when they retire, not something that a couple in their 30s with far less and no way to pay for labor does. Our plan is to build the winery by hand like we did the house and as the budget will allow. We have a lot of work ahead of us but there is no other way to accomplish it. If we paid a contractor we would need six figures.

Raising sheep is something we will continue to do because the Babydoll breed is so docile that a lot of older people raise them. They don't fight or run. We need livestock to keep the woods and fields clear and put meat on the table.

We have talked about some travel but it is not realistic for a long time. We have a lot of responsibility and obligations with the farm and vineyard, writing, and taking care of my Dad. He lives at our other property down the road so we have two households to run and take care of. One day if the world is safe enough to do so, it would be amazing to spend a month on Lake Baikal in Russia. It is a very remote place but you can take The Trans Siberia Railway from Moscow to Lake Baikal. I want to fish there and write. It is the deepest and largest freshwater lake in the world.

Within the next few years, we might get a John boat and motor so we can go explore the lakes that are nearby. We have plans to add a greenhouse to the front of the house and have a tub down there so it is a combination greenhouse and spa. Being able to grow more food is going to be important in the future so it is a good way to combine some relaxation and farming and it will help our house be more energy-efficient.
9. Congratulations on being named editor-in-chief at Backdoor Survival.  Are there any enhancements or changes coming down that line that you can share with us?
Thank you. There are going to be some short books in the near future that offer condensed information for preppers that are just getting started or that want concise and informative guides that they can give to friends and loved ones to help them get started.

There will be more actual survival gear offered too.  I have been clear that any product we offer has to be of good quality. It takes time to find good products that serve a purpose. There are a lot of junk products out there that are trying to get a piece of the prepping market.

We will have more guest authors in the future as well. Since I have become editor-in-chief I have been approached by a number of highly qualified people that would like to write for Backdoor Survival. I intend on writing 3-4 articles a week a lot of the time but there will be times when I need some help so that I can work on book projects. Plus I think that it is good for people to hear from other writers besides me.

There will also be more articles on timely news events. For example, the day the oil tankers were attacked in the Gulf of Oman, I wrote an article just considering what the consequences could be and what people could do to prepare for that and support each other.

While it is good to hear what is going on, I get tired of reading news reports and opinions that never really delve into what the average person can do to get through the consequences of an event. Ok so oil tankers got attacked and the price of gas is expected to rise. What can the average person do to deal with high gas prices? If war is declared and there is civil unrest due to anti-war protests what can you do to keep your family safe?

People need answers that help them, not just regurgitated news reports that make them feel like they are powerless.
10.   To date, what is your favorite article on the BDS site?
That is a hard one to answer because there are so many that I like. I would have to say I like the ones that make people think about the hard stuff that will help them survive a short or long term emergency. It is important to get outside your comfort zone and analyze yourself and those around you so you can more fully understand your circumstances and what and who you have to work with.  This could be a post like "What Type of Prepper Are You?" that you wrote back in 2017 or your review and discussion of a gunshot wound kit.

It can be very mentally taxing to write articles that get people outside their comfort zone but I do it because it needs to be done and it helps people. The three hardest articles I have written for Backdoor Survival were "The Breakdown of Law In American Cities", "Treating Medieval Diseases In Modern Times", and when "The Meds Run Out: Dealing With A Society In Withdrawal and finding alternatives to popular medications now & for SHTF".

All those articles were worth it though. The meds post got people talking about how to lead healthier lives and I saw people on social media encouraging each other and telling their stories. If I can give people the nudge to help each other and improve their health together, I am going to do it even if it puts me in a dark place for a little while.
11.  Privacy concerns notwithstanding, where can we find you in social media?
Backdoor Survival is on Facebook, Twitter, and Pinterest. At the moment the Facebook page is the one where I see comments and messages the most. I have a personal Facebook account too. I try to respond to messages unless it is us just someone trying to be weird. I can also be reached at via email here.
12. Is there anything else you would like to share with my readers here at Strategic Living?
The preparedness community is an extremely welcoming place for people from all walks of life but I think a lot of people do not realize that. I would love to see younger and older people come together and learn from each other. A lot of younger folks grew up in homes where they were not really taught a lot of skills. It can be hard to bridge the generational gap.

I have been trying to think of ways to get different generations to come together more. People are so afraid of being judged on both sides of the equation and a lot of assumptions are made. You don't have to agree on every little thing to learn a lot from others. I miss the USA where people could talk and learn without agreeing on every little thing.

I just finished a book called "Love Your Enemies: How Decent People Can Save American From The Culture of Contempt" By Arthur C. Brooks. I think people from all walks of life should read his book and think long and hard about how we are encouraged to hold each other in contempt and be divided on practically everything.

While you or I may not agree with everything in the book, it sure makes you think about how to be a better person, look at both sides of an issue, and see the value in others.
Summing It All Up
As much as I hate to admit it, I am an aging baby boomer.  That said, when I was in my 20s and 30s, I was a shaker and a mover, and somewhat of an activist for peace, love and the American way of life.  I feel that the traditions of our pioneers must not fade into oblivion.  Our world is a rough place and in the blink of an eye, our power grid could go down, a pandemic could wreak havoc, and the world as we know it might change.
Thank you, Samantha, for reminding us that there are members of your generation that not only care but are doing something to prepare for an uncertain future.
Yours for a Joyful Life,
Gaye
Strategic Haul
Note:  I am an affiliate for Organica Naturals and receive a commission when you make a purchase.  That said, I have tried CBD from a number of companies and feel Organica has one of the better products available at a price that is not crazy ridiculous.
It goes without saying that I have become a huge advocate for CBD Oil.  Not the fake stuff you get on Amazon but the real deal.  Interested in learning more?  Here is some recommended reading.
What You Need to Know About CBD Oil
What I Learned Using CBD Oil
Homemade CBD Salve that Really Works
CBD Dosing: How Much CBD Should I Take?
And my favorite CBD Oil company? Organica Naturals is where I purchase CBD for personal use.  I prefer the Full Spectrum CBD Tincture whereas my husband prefers the Full Spectrum Capsules (which are too high of a dose for me). 
BOGO HIGH POTENCY FORMULAS
20% Off Everything Else Using Code GAYELEVY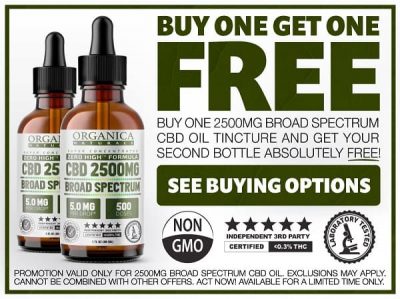 Regardless of what you choose, all Organica Naturals products include free shipping and a 60-day no questions asked guarantee.  Plus, if you use the code "gayelevy" at checkout, you will currently get a 20% discount if no other discounts apply.
~~~~
Like this? Be sure to visit Strategic Living on Facebook and Pinterest!  To learn more about Gaye, visit her ABOUT page.
Stay Informed!  Sign up and be the first to learn about something new at Gaye Levy's Strategic Living Blog 

Want to give CBD Oil a try?  Get a 20% discount using code "gayelevy" at checkout.  Free shipping on orders over $100 and a 60 day return policy.
~~~