Today I share with you The Strategic View.  Instead of a  full-blown article, my goal with the Strategic View is to share snippets of news, information, and opinion, as well as an update of what I am personally doing to stay prepared while pursuing what I fondly refer to as a strategic life.
Give it a read and if you are so inclined, leave a comment with suggested topics you would like to see me cover.  Feel free to get upfront and personal, okay?
Most of what I cover today is related to the current COVID-19 pandemic ravaging the globe.
The Science Behind Soap
Since last summer, I have become a soap making fiend. Seriously, I love making and using homemade soap. Because of this, I was curious about the science of using soap as an antiviral.
In the simplest of terms, soap works because of the way soap molecules interact with the surface of a virus.  These molecules unglue the virus from a surface and dissolve their fat layer, causing them to fall apart.
Here is an article that explains this process in more detail:  The science of soap – here's how it kills the coronavirus
Note: beauty bars such as Dove are not soap. They are "syndets" or synthetic detergents. I am not sure whether they work the same or not but just to be safe, use REAL soap to wash your hands.
A while back I posted a soap-making tutorial:  Beginners Guide to Budget-Friendly Hot Process Soap from Scratch.  For the lye-adverse, check out soap making using the melt and pour method: Super Simple Goats Milk & Honey Soap for First Time Soapmakers. 
DIY Soap-based Household Cleaner
For over ten years, I have shunned commercial household cleaners and opted for toxic-free, chemical-free DIY cleaners instead. These cleaners are based on castile soap with the addition of essential oils for an anti-bacterial boost.  It is not too late to start using soap-based household cleaners!
Ingredients:
Liquid Castile Soap (such as Dr. Bronner's)
Water (preferably distilled or filtered)
Optional:  Antiviral Essential Oils (Oregano, Tea Tree, Immunity Blend, there are many to choose from)
Spray Bottle (I use these glass bottles as well as these plastic bottles)
Directions:
Add 2 tablespoons of liquid castile soap to a 16 oz. spray bottle.  Top with water. 
For an immunity boost, add 20-30 drops of an antimicrobial essential oil.  Right now I am using my DIY immunity blend but in the past have used tea tree, oregano, lavender, cinnamon, and thyme either singly or in combination. Right now, though, I feel that an immunity blend is my best bet.
Give the bottle of cleaner a good shake before using it.  I find that rinsing is not necessary.
Bonus:  this cleaner is safe on all surfaces, including natural stone, granite, and wood.  I sometimes use it to deep clean my cabinets and dining table before using my DIY dusting spray.
One more tip:  I mix up a batch without essential oils in a 2 quart Rubbermaid container.  I add my essential oils when I refill my spray bottles.  In this case, you will add 1/4 cup to the 2-quart container.
A Word About CBD and Your Immune System
Over the last couple of weeks, I have noticed a lot of bloggers and social media posts alleging that CBD oil can boost your immune system, thus increasing the odds of helping to fight off infection.  Just to be clear, at this point in time I am not one of them.  Maybe it does and maybe it doesn't.  The bottom line is we just don't know.
Furthermore, I follow a lot of CBD vendors and to me, it is a travesty that so many are aggressively promoting CBD as a way to combat COVID-19.  Shame on them. 
What CBD can effectively do?  From my own personal experience, CBD can help you manage stress, reduce pain and inflammation, and sleep better.   Again, for me personally, it has been a miracle worker.  As a refresher course, here are the articles I have written so far about CBD.  I hope you find them informative.
What You Need to Know About CBD Oil
What I Learned Using CBD Oil
CBD Dosing: How Much CBD Should I Take?
Homemade CBD Salve that Really Works
Create a CBD Rollerball for Joint & Arthritis Pain Relief
If you are interested in learning more about CBD and the immune system, here is a well-written, science-based article that discusses this topic:  Can CBD help you fight the CoronaVirus and support the Immune System?
BOGO HIGH POTENCY FORMULAS
20% Off Everything Else Using Code GAYELEVY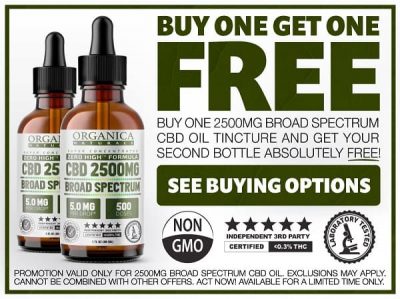 What is "Novel" About Coronavirus
By now you have read that COVID-19 is a "novel" coronavirus.  So what is up with the term "novel" when used in this context?
Actually, it is used quite literally.  While there are many types of human coronaviruses including some that commonly cause mild upper-respiratory tract illnesses, COVID-19 is a new disease, caused by a novel (or new) coronavirus that has not previously been seen in humans. 
So there you go.  Novel denotes "new". (Source)
Pandemic Gear you May Already Have
Something my husband and I do daily is to take our temperature.  So far so good.  Although we have a fancy-schmancy temporal artery thermometer purchased years ago when I first put together my prepper medical kit, any common fever thermometer work.
Something else we do daily is scrub our nails with a nail brush two or three times daily.  If you don't have a nail brush, consider dedicating an old toothbrush for this purpose.
Summing It All Up
Being an optimist, I truly believe we will get through this and while life may be distressing and even painful in the short term, we will come out the other end as strong or stronger than ever.  That said, there is one thing we all need to do right now.  In two words:
BE KIND
Many people are really hurting right now and in anger, fear, or both, they will lash out at anything.  Don't be a jerk and lash back.  Practice restraint and be nice.  
Yours for a Joyful Life,
Gaye
Strategic Haul
When I began writing my article Prepare Your Home and Protect Yourself from Coronavirus, I made a point of telling my Facebook followers that I was sickened by the commercialization of the Coronavirus and that I wanted to write a no-pitch post.  I was subsequently asked to please include links to the products that I personally and so, on a limited basis, I did so, especially with the essential oil products I use.  That said, I want to reiterate that the threat of a pandemic is not something we should embrace as a way to make money or to make a political point. Especially the latter.
Here a few items to consider in your quest to stay healthy.
Dr. Bronners Liquid Castile Soap:  This soap is a staple in my cleaning pantry.  It comes in various "flavors" such as peppermint, tea tree, eucalyptus, citrus, rose, almond and more.  These days I prefer the unscented so that I can add my own essential oils in accordance with how I am using the soap.  In addition to the DIY Household cleaner above, I use Dr. Bronners to clean my toilets, mop my floors, and shampoo my dog.  A little goes a long way!
Nitrile Gloves:  At least locally, I am not seeing shortages.  We use nitrile glove in the kitchen for meal prep, when administering first aid, and now, having them on hand for when we venture away from home.  Last I checked, Costco was still well-stocked with nitrile gloves in all sizes.
Protective/Immunity Essential Oil Blends:  I started out using Shield, from Spark Naturals.  Now I make my own immunity blend.  If you prefer a ready-made blend, consider the following from brands I trust:
Plant Therapy Germ Fighter
Now Foods Natures Shield
Edens Garden Fighting Five Blend
Spark Naturals Shield (5ml) or Shield (15ml)
AromaSoft Lifetime Essential Oil Diffuser:  As with many of the products I promote, this diffuser is not going to be the cheapest on the block, although $20 is not bad especially when I used to pay $60 or more for a diffuser.  This BPA-free diffuser puts out a strong mist that can fill a room.  All that in spite of its size.  Plus, it comes with a lifetime warranty.
~~~~
Like this? Be sure to visit Strategic Living on Facebook and Pinterest!  To learn more about Gaye, visit her ABOUT page.
Stay Informed!  Sign up and be the first to learn about something new at Gaye Levy's Strategic Living Blog 

Want to give CBD Oil a try?  Get a 20% discount using code "gayelevy" at checkout.  Free shipping and a 60 day return policy.
~~~