As I recall, the first time I dabbled using essential oils to manage my blood pressure was in early 2015.  At that time, my once perfect blood pressure had taken a leap from 120/80 to 160/90 and higher.  I pretty much freaked out and called my physician.  After calming me down, she told me to take a deep breath, monitor my BP daily for a couple of weeks, and if there was no change, secure an appointment so we could do some testing. 
Rather than wait, a few days later I decided to experiment with natural remedies before taking more drastic measures such as pharmaceuticals.  The rest, for me, is history. 
I found a combination of essential oils that not only worked to help manage my own blood pressure but also helped my husband and countless others who followed my original March 2015 post on Backdoor Survival.  To this day I still use essential oils in a salve form to maintain healthy blood pressure.  You will find the simple, DIY recipe below.
But first, let me speak to a concern that has bubbled to the top for all of us this past year.  That concern is how we will deal with health issues in the event modern medicine and western doctors are no longer available to keep us well. Or, as recent history has shown us when in-person doctor visits are curtailed but for all but the direst of circumstances.
A World Without Healthcare
Avid preppers have always put a high priority on having a large, if not huge, supply of medical and first aid supplies.  From trauma kits to antibiotics and personal protection gear, long-term preppers learned early on that our reliance on available western medicine and a pharmacy on every block meant we were always just a short ride away from urgent healthcare.
Then came a global pandemic.  Suddenly what was so easy in the past, was difficult if not impossible.  There were no in-person healthcare visits, no lab tests, and no screenings.  Even now, a year later, we struggle to get in-person appointments within a reasonable period of time.
Not to blow the preparedness horn too loudly, but honestly?  I was thankful that years ago I accumulated a robust stash of sick room supplies as well as N95 and N100 masks,  hazardous waste bags, a wound kit, and a six-month supply of prescription drugs.  I had also acquired a large stockpile of essential oils and CBD oil along with the knowledge and experience using them.
I knew then, as I know now:  stuff happens.  The good news is that it is never too late to prepare and practice wellness strategies using natural remedies.
Blood Pressure Salve using Essential Oils
My use of essential oils to manage high blood pressure began with a baseline of good health.  A healthy diet, frequent exercise, and height and weight in proportion are always a good starting point for any sort of natural protocol and I passed on all accounts than as I do now.  Within days of using this salve, my blood pressure has stabilized at about 110/76 in the mornings and 106/66 in the evenings.  It remains the same today, six years later.  On a few occasions, it was  lower; low enough for me to verify that it was not too low (it wasn't)
Blood Pressure Salve
Ingredients
2 ounce Base Carrier Salve (See instructions here)
60 drops Ylang Ylang
30 drops Cypress
30 drops Marjoram
Tools
2-ounce jars (like these)
Note: the Base Carrier Salve is made with olive oil, coconut oil, and beeswax.  It is good to keep on hand as an all-purpose ointment and carrier for your essential oils.
Scoop some premade base salve into a small jar and liquefy the contents by setting it into a pan filled with an inch of water.  Set on top of the stove and heat gently until the base salve is melted. You may also use a microwave to liquefy the base salve as long as you monitor the temperature.  I use a laser thermometer to ensure that my base salve is no hotter than 140 degrees before adding my essential oils.
After melting the Base Salve, add the essential oils and mix well using a small stick or toothpick. Hopefully, your jar will have a tight-fitting lid and in that case, you can sure the lid and shake the liquid salve to disburse the oils.  Set your salve aside to firm up overnight.
Note: If you don't want to make up a batch of your Base Carrier Salve, you can use coconut oil, olive oil, lotion, or some other carrier oil. 
Usage
In the evening, before bed, take a dab of the BP salve and rub it over your heart.  Optionally, you can also rub some into the sole of the left foot, right under the big toe, and below the ring finger on your left hand.  These are commonly referred to as the "reflex points" for the heart.
Although I prefer the salve, I have also used the same essential oils in a rollerball topped with fractionated (liquid) coconut oil.  In that case, use 10 drops of Ylang Ylang and 5 drops of each of the other oils into a 10ml rollerball.  Top with FCO.
What is Blood Pressure?
Let me quote from Joe and Amy Alton's excellent book, The Survival Medicine Handbook:
Blood pressure is the measure of the blood flow pushing against the walls of the arteries in your body.  Without this flow of blood, oxygen would never get to all the organs of the body.

If this pressure, however, is elevated over time, it can cause long-term damage.  Many millions of adults in the U.S. have this condition, which is often asymptomatic (no signs or symptoms).  Because of this, it has been referred to as a "silent killer".  Blood pressure tends to rise with increasing age and weight.
Put another way, high blood pressure can damage your arteries by making them less elastic, which decreases the flow of blood and oxygen to your heart, leading to heart disease and eventually a heart attack.  This can be fatal. 
High blood pressure (hypertension) can also cause the arteries that supply blood and oxygen to the brain to burst or be blocked, causing a stroke.  Brain cells die during a stroke because they do not get enough oxygen.  This can result in serious damage to speech, movement, and other basic activities. A stroke can also kill you.
For better or for worse, many adults routinely take blood pressure medications to control high blood pressure.  The hope is that by managing blood pressure, a stroke or a heart attack can be avoided.  Regardless of whether you use lifestyle changes (including but not limited to diet, exercise, and natural remedies such as essential oils), or prescribed medications, an honest and frank discussion with your healthcare provider is warranted. 
High blood pressure is not something you want to mess around with.
For some additional reading, you might find this article interesting:  Can essential oils help lower hypertension?  If you follow the links in the article, you will find a number of peer-reviewed studies suggesting that essential oils can and do work.
Side note:  following six months of BP salve use and careful logging of blood pressure readings, my husband's cardiologist eliminated two of his blood pressure medications.  Your results may differ and sadly, not all healthcare providers are as open-minded.
Essential Oils Can Relieve Stress and Evoke Calm
There is one additional step I would like to suggest as part of your overall blood pressure management protocol. 
In a small bottle, mix up a blend of these essential oils in the proportions shown.  Alternately, you can use some other calming essential oils, such as my DIY Dream Blend, or even something as simple as a blend of Lavender and Cedarwood oils.
Then before bed, add water to the diffuser along with 8 drops of my blend and run it while you sleep.  Whether it is a coincidence or not, I sleep better with the diffuser and, of course, my blood pressure has remained in the normal range for years.  Perhaps the reason this protocol is working is that the oils are been calming.  Calm evokes relaxation and the end result is less stress. 
Is that really what is happening here? I tend to believe that the diffused oils supplement the salves I use at bedtime. I leave it up to you to decide whether it is right for you.
How to Make Base Salve
If you do not have any Base Salve ready to go, you can quickly make up a small batch or purchase some pre-made.
Ingredients
1/2 cup Virgin Coconut Oil
1/2 cup Extra Virgin Olive Oil
2 1/2 Tablespoons Beeswax Pellets
Directions
Measure the coconut oil, extra virgin olive oil, and beeswax into a heatproof glass jar or measuring cup. Set in a pan of water on a low simmer until completely melted.  You can help things along by giving it a quick stir from time to time with a knife.  This may take some time, up to 30 minutes.
When everything is completely melted, remove from heat.
Carefully pour the warm oil into ointment jars or small mason jars, leaving some headroom at the top.  Set aside to firm up.  Depending on the temperature of your home, this can take up to 12 hours.
Yield
1 cup
The complete recipe for DIY base carrier salve can be found here:  Base Carrier Salve for Essential Oils
A Word About Blood Pressure Monitors
I currently own an Omron 7 Blood Pressure monitor and as long as the batteries are fresh, it seems to work pretty well.  Both Shelly and I have found that our BP readings are lower at night than in the morning. According to our physicians, it is normal to have some fluctuation so there is no cause for worry unless the numbers start to climb above the 140/90 range and stay there.
Curiously, however, one of our doctors said that home blood pressure monitors are crap and should not be relied upon.  Who is right?  Again, I leave it up to you to decide but for me, it is comforting to take a periodic reading so that I can take action if there is either a gradual or sudden change in our BP levels become too high.  As I discovered myself, that can happen in a flash.
Disclaimer:  Before you rush off and begin to self-medicate using essential oils let me say this.  If you are under a doctor's care for hypertension (high blood pressure), keep track of your results and share them with your health care provider before making any change in your drug protocol.  Remember that I am not a health care professional.  Furthermore, essential oils have not been approved by the FDA for medical use. 
Summing It All Up
For me, essential oils coupled with CBD oil are minor miracle workers. I have a large stash of both to get me though tough times and potential supply shortages as our world situation become more tenuous.  That said, I have a lot of oils I rarely use and instead focus on the basics of Lavender, Rosemary, Peppermint, Tea Tree (Melaleuca), and Oregano along with the oils used in my various salves. 
You can find a list of the various salves I make and use on the Essential Oils & CBD tab of this website, and further, I hope you venture out and make these home remedies a part of your preparedness and healthcare toolkit.
As we have learned, when and not if the time ever comes when modern medicine is not available, it will be comforting to know that you can turn to your cache of oils to get me you through.  As I have taken to saying:  Stuff Happens – Be Ready!
Yours for a Joyful Life,
Gaye
Strategic Haul
Here are products related to today's article.
NOW Foods Essential Oils:  More and more, I have grown to trust essential oils from NOW Foods.   They are budget-friendly and come in large bottles so you can afford to use larger amounts.  Try their Tea Tree oil or Natures Shield Protective Blend in your cleaning products.
The Survival Medicine Handbook: A Guide for When Help is Not on the Way: This book by Joe and Amy Alton book teach how to deal with all the likely medical issues you will face in a disaster situation, including strategies to keep your family healthy even in the worse scenarios. It covers skills such as performing a physical exam, transporting the injured patient, and even how to suture a wound. This medical reference belongs in every survival library and is an excellent reference during good times and bad.
 2 oz Cosmetic Jars: Perfect for all of your homemade salves, Vivaplex is my favorite brand for jars.  They don't leak and budget-friendly.
OMRON Wrist Blood Pressure Monitor:  This is a newer version of the BP monitor I use. No complaints and it is a cinch to use.
Essential Oil Diffuser by AromaSoft:  As with many of the products I promote, this diffuser is not going to be the cheapest on the block, although $20 is not bad especially when I used to pay $60 or more for a diffuser.  This BPA-free diffuser puts out a strong mist that can fill a room.  All that in spite of its size.  Plus, it comes with a lifetime warranty.
OrganicaNaturals:  This company specializes in tinctures for both humans and pets, including a zero-THC option.  Their cannabis plants are from Colorado and California, where they grow outdoors under natural sunlight using organic and sustainable farming practices. The plants are Certified Organic, non-GMO, and pesticide-free.  All products are third-party tested and shipping is always free.  Get a 20% discount when using code "gayelevy" at checkout. 
What You Need to Know About CBD Oil
What I Learned Using CBD Oil
CBD Dosing: How Much CBD Should I Take?
Homemade CBD Salve that Really Works
Create a CBD Rollerball for Joint & Arthritis Pain Relief
BOGO HIGH POTENCY FORMULAS
20% Off Everything Else Using Code GAYELEVY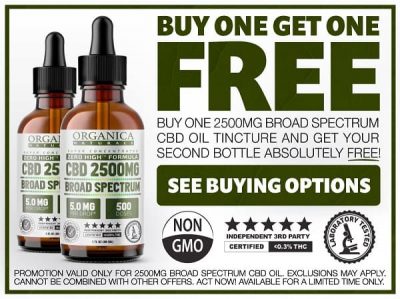 ~~~~
Like this? Be sure to visit Strategic Living on Facebook and Pinterest!  To learn more about Gaye, visit her ABOUT page.
Stay Informed!  Sign up and be the first to learn about something new at Gaye Levy's Strategic Living Blog 

Want to give CBD Oil a try?  Get a 20% discount using code "gayelevy" at checkout.  Free shipping on orders over $100 and a 60 day return policy.
~~~