Those of you that follow my Strategic Living Facebook page are aware that my former website, Backdoor Survival was recently resold to an entity in the Philippines.  For now, I will refrain from lambasting prepping and survival sites owned by investors and not preppers.  Instead, I wish to publicly make you aware of a grievance I have with the new owners. 
In brief, they are misusing my name and personal story by claiming they belong to the founder, a so-called Mary Johnson. This is a lie.
Because they have failed to respond to my numerous emails and attempts to content them via social media,  I will frame this as an "Open Letter" and hope they see and respond.
An Open Letter to the Backdoor Survival Ownership Team
Dear Backdoor Survival,

As you may know, I am the original founder of Backdoor Survival and from 2010 to May 2017, was the author of the majority of the content on the website. Over the years, I posted over 1800 articles with just a very small number written by guest authors and even then, the guest articles were introduced and summarized with my own verbiage.

I am contacting you today because I have learned that you and Digital Dividends LLC are the new owners of Backdoor Survival.

Imagine my shock and disbelief when I discovered that you chose to predominately promote and use a large image of me on the about page. This was a blatant violation of the purchase and sale agreement I executed with Owl Mountain in May 2017.

Upon discovery of my image being used in such a manner, I made many attempts to contact the site via email and via social media. I used the contact form and also left post comments. I did not receive any response whatsoever to my inquiries.

A few days ago I went to the site and was shocked to see that my bio and personal story had been hijacked by Mary Johnson. Not only that, Ms. Johnson is now referenced as the founder of the site. Not only is that an outright lie, but it is also a gross hijacking of my sterling reputation and history as the founder of a prominent survival and preparedness website.

It is important to note that while I did allow Owl Mountain to use my bio within the framework of sharing how and why I started Backdoor Survival, this permission was done verbally and on a conditional basis so long as there was no abuse involved.

Assigning my personal history and my bio to another individual is just plain wrong. Furthermore, to link to my personal history on the ABOUT link on your site is a gross misrepresentation of the truth. Backdoor Survival is not about me and has not been since May 2017.

Along these same lines, I have discovered that a number of articles dated after May 2017 are still showing my name as the author even though I was no longer writing for the site. Many of these articles have been changed to the extent that they are unrecognizable. Some contain harmful falsehoods that are a clear indication that whoever made the modifications does not understand preparedness, homesteading, or the use of natural remedies and essential oils. Not only that, but the grammar and punctuation is also poor to the extent of being embarrassing.

In closing, I ask that you take immediate steps to so the following:

1. Remove my personal history and bio from the Backdoor Survival "About" page at https://www.backdoorsurvival.com/about-backdoor-survival-gaye/.

2. Remove my name as the author of any and all articles that are dated after May 2017.

3. Acknowledge publicly on the website and on Facebook that I am no longer a participant in the site and that you apologize for the misuse of my image, personal history, and biography.

Sincerely,
Gaye Levy
How You Can Help
If you or someone you know has contact with the individuals involved with the "new" Backdoor Survival, please let them know that misuse of my personal biography and history is despicable and dishonorable.  Furthermore, let them know that to allow Mary Johnson to take credit as the founder of the site is not only misleading and a lie, but it is fake news.  As much as I hate that term, it is what it is.
Summing It All Up
August 2020 has been filled with a number of traumatic events that have affected me personally.  This, however, was and is the frosting on the proverbial cake.  That said, as a prepper, I have learned to do my best to roll with whatever this crazy world throws my way.  Sometimes it is not easy but like you, I know I will prevail.
I repeat myself when I say my followers here on Strategic Living are the best.  Thank you for reading and listening, and know you are appreciated.
Yours for a Joyful Life,
Gaye
Strategic Haul
Note:  I am an affiliate for Organica Naturals and receive a commission when you make a purchase.  That said, I have tried CBD from a number of companies and feel Organica has one of the better products available at a price that is not crazy ridiculous.
It goes without saying that I have become a huge advocate for CBD Oil.  Not the fake stuff you get on Amazon but the real deal.  Interested in learning more?  Here is some recommended reading.
What You Need to Know About CBD Oil
What I Learned Using CBD Oil
Homemade CBD Salve that Really Works
CBD Dosing: How Much CBD Should I Take?
And my favorite CBD Oil company? Organica Naturals is where I purchase CBD for personal use.  I prefer the Full Spectrum CBD Tincture whereas my husband prefers the Full Spectrum Capsules (which are too high of a dose for me). 
BOGO HIGH POTENCY FORMULAS
20% Off Everything Else Using Code GAYELEVY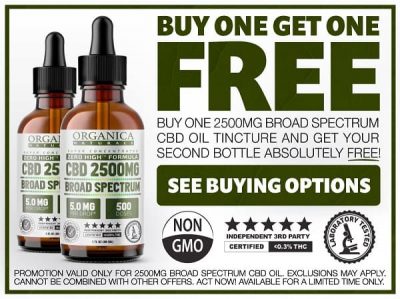 Regardless of what you choose, all Organica Naturals products include free shipping and a 60-day no questions asked guarantee.  Plus, if you use the code "gayelevy" at checkout, you will currently get a 20% discount if no other discounts apply.
~~~~
Like this? Be sure to visit Strategic Living on Facebook and Pinterest!  To learn more about Gaye, visit her ABOUT page.
Stay Informed!  Sign up and be the first to learn about something new at Gaye Levy's Strategic Living Blog 

Want to give CBD Oil a try?  Get a 20% discount using code "gayelevy" at checkout.  Free shipping on orders over $100 and a 60 day return policy.
~~~