What exactly is Independence Day?  Do we even know any more?  Reluctantly, I sat down at my computer and made a feeble attempt to put some thoughts together on the relevance of Independence Day, then and now.
Let me explain.
As I expressed to my followers on the Strategic Living Facebook page, I have gone underground for a few months, isolating myself from society and COVID-19 while at the same time absorbing the news of the day and trying to make sense of it.
The reality is that as prepared as I was and am with physical products and life-skills, I was not at all mentally prepared for the discourse of 2020:  the impeachment hearings, global pandemic, death of George Floyd, and unmitigated riots and anarchy.  To say that I am in a funk is, to put it mildly. 
When I finally shared this publicly, I heard a collective sigh of relief from others who were either afraid to speak up, or lacking a safe platform in which to do so.
So here we are today, on Independence Day in the United States.  This year it is a day without celebrations, picnics, BBQs, and fireworks. Many of us are self-isolating for fear of getting sick ourselves or infecting others.  Some are afraid to leave their homes lest they get car-jacked or their home is invaded while they are out.  Fear rules the day.
I don't know about you, but this aging prepper and her husband are frustrated and depressed.  We don't know what to believe and which expert to listen to.  Freedoms that we have long considered our right as citizens appear anything but.  And sadly, we realize that this may be the last year ever that July 4th will be recognized as the day the Continental Congress formally adopted the Declaration of Independence.
Knowing that this may be the last time we can publicly glorify our independence, I would like to reflect on the unique experiment we call the United States of America.
A Rags to Riches Nation
Some call it the American Dream while others will simply embrace the concept of rags to riches.  For sure, many of us have relatives and friends that started life with nothing and ended up with a nice home, perhaps their own business, and a nest egg to carry them through retirement. 
I know about this first hand.  I was one of those persons.
This United States of America is a nation where an individual can work hard and invest the time needed to achieve a vision or a goal.  Indeed, there may be some luck involved, but for the most part, success is right around the corner to a hard-working American.  Think about it. To this day, immigrants from around the world are willing to risk everything to have a chance to start a family, earn a living, and succeed in a life free of oppression and government intervention.  They want to become Americans.
How did this come to pass?
The Declaration of Independence
In 1776, fifty-six men signed a document called the Declaration of Independence, officially breaking away from England, who, at the time, was the strongest nation in the world.  It was Benjamin Franklin who prophetically said "We must indeed all hang together or most assuredly we shall all hang separately." In this statement, he was referring to the need for the signers, and colonies they represented to stick together and stay strong in their opposition against their common enemy. 
With this common goal, it took eight long years before our fledgling nation was truly independent. During that time, citizen-soldiers who took up arms and became the continental army under the leadership of George Washington and many other patriots.  They fought the Revolutionary War, also known as the American War of Independence, and many died for the freedoms we now embrace but are at risk of losing.
These brave men, true warriors, were fighting for a separate and sovereign nation and the freedom from excessive taxation and the lack of representation on matters of governance.  They were also fighting for the American Dream,  self-governance, private land ownership, and a life where individual liberties and freedoms would be the norm.
To summarize, they were seeking freedom from tyranny and willing to risk everything to get it.
The Preamble Says It All
The Preamble to the Declaration of Independence states:
"We hold these truths to be self-evident, that all men are created equal, that they are endowed by their Creator with certain unalienable Rights, that among these are Life, Liberty and the pursuit of Happiness."
With the challenges we are facing today, these words are more important than ever.  Although we are a self-governing people, with a representative government supposedly determined by the ballot box, our system of governance is being torn apart by radical ideologists.  We are surrounded by media disinformation, lies, deceit, and fraud. 
Right now, at this moment, we are failing at freedom on a number of fronts.  There are those that want to erase our history and destroy our symbols.  They want to take away the fruits of our hard work and toil so that they can tell us what to do and when.  If we are too old, the wrong religion, the wrong political party, or the wrong color, we are to be belittled and dismissed as irrelevant.  We are told "OK Boomer", or accused of being a "Karen".  It is disgusting, it is disturbing, and it is wrong.
Why This? Why Now? 
Lest I be accused of going off the deep end,  please understand that I am writing this for one simple reason:  to tell you that you are not alone. 
Although you may be too afraid to speak up publicly, there is a silent army of patriots just like you that are starting to prepare for a life of self-reliance and social isolation.  Do not give up and if necessary, let me become your cheerleader. Inventory your essential supplies and polish up on skills that you may need down the road to survive.  Become a maker, not a user.  Learn self-defense, accumulate cash, and learn to live frugally.
A Word About Social Media
I abandoned my personal Facebook feed at the end of 2019.  Furthermore, I never embraced Twitter or Instagram.  That said, I still post to the Strategic Living Facebook Page on a semi-regular basis.  As much as you may hate Facebook, this page is still a good place to pow-wow and share thoughts with like-minded folks.  I encourage you to join us.
In addition, you may have heard the recent fanfare about a new social media site, Parler.  I joined in March and got verified as @gayelevy.  Parler promotes freedom of speech and does not censor like Facebook censored an article of mine that was posted a year ago.  Can you believe this was censored?  Really?  Is American Freedom Under Siege?
Summing It All Up
Our freedom loving country is currently under siege by spoiled brats and hoodlums who have been radicalized by liberal colleges and socialist-leaning educators.  It is also under siege by foreign actors that want to destroy us.  Do not let them win.  Call or write your elected representatives and tell how you feel.  Giving up is not an option.
In closing, please remember we are still protected by three momentous documents, the Declaration of Independence, the Constitution, and the Bill of Rights.  Let us take responsibility for the freedom we were granted and let out elected leaders know that we will not go down quietly.
May God help us all.
Yours for a Joyful Life,
Gaye
Strategic Haul
CBD Oil has worked wonders to calm my anxiety and help me sleep.  I don't take a lot – just 6mg – but without it, my mind wanders at night and I toss and turn with abandon.  My preferred vendor is Organica Naturals.  You will not be disappointed but if you are, they offer a 100% refund guarantee. 
BOGO HIGH POTENCY FORMULAS
20% Off Everything Else Using Code GAYELEVY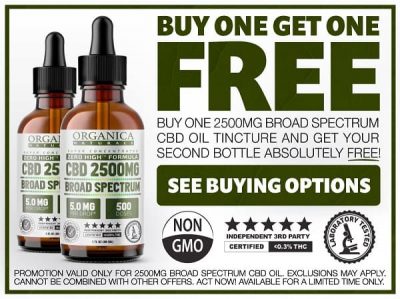 To learn more, educate yourself with the series of articles I have written describing my personal experience with CBD.
What You Need to Know About CBD Oil
What I Learned Using CBD Oil
CBD Dosing: How Much CBD Should I Take?
Homemade CBD Salve that Really Works
Create a CBD Rollerball for Joint & Arthritis Pain Relief
Like this? Be sure to visit Strategic Living on Facebook and Pinterest!  To learn more about Gaye, visit her ABOUT page.
Stay Informed!  Sign up and be the first to learn about something new at Gaye Levy's Strategic Living Blog 

Want to give CBD Oil a try?  Get a 20% discount using code "gayelevy" at checkout.  Free shipping and a 60 day return policy.
~~~