I don't remember exactly when I embraced DIY other than to recall that I used vinegar and water as a household cleaner when I was a mostly-broke college student.  Over the years, I became interested in natural homemade products and experimented not only with simple household cleaners, but also personal products such as cleansers, salves, and home remedies. 
More recently I have turned to soap making and you might say the rest is history.
While teaching myself to make soap, I discovered  Jan Berry and her blog, The Nerdy Farm Wife.  I purchased a couple of her books and was hooked.  When I learned that her book of homemade products was being updated and expanded, I knew I just had to have it.
This wonderful book is suitable for every kitchen chemist and in this article, I will tell you why.  I am also going to share the recipe for a Calendula Spice and Honey Scrub that I have made myself and, in my usual style, offer a copy of the book in a giveaway.  NOTE:  The giveaway has ended.
Why Is "The Big Book of Homemade Products" Special?
This is not one of those do it my way or the highway books.  You know what I mean.  There are a lot of books out there that include a cornucopia of recipes using ingredients that are either expensive or difficult to source. Who needs that? 
The other thing and this is a big one, is that Jan Berry herself has developed the recipes and taken the photographs included in the book.  She is a real person (go to her blog and check her out) and not one of those crappy, anonymous, sweatshop authors on Amazon who have never made a DIY product but instead mine book content from the internet.  Shameful.
Anyway, sorry to get off track but plagiarized content is something I abhor, especially since it has happened to me.
In her book, Jan tells you to feel free to swap out infused oils for plain oils.  Don't have sweet almond oil?  Use olive oil instead.  No access to specific plants or herbs?  Or can't afford them? Most flowers and herbs can be interchanged or left out completely.
Need an example?  A typical recipe will say:
2 tbsp melted coconut oil or other oil, such as sunflower or olive, optionally infused with herbs or flowers
Finally, if you do have a garden and are wondering if the flowers and herbs in your yard are usable in your concoctions, there is a list of common herbs and flowers plus their benefits along with a list of the recipes using that particular botanical. The list even includes page numbers so there is no need to flip back and forth to the index.  Brilliant!
The Book Contents
Lest you think this book is all about personal care products, here is a sampling of what you will learn to make:
Bug Bite Powder
Lemon and Ginger Sore Throat Drops
Thyme Counter Cleaner
Lavender Laundry Detergent
All-purpose Animal Salve
A Variety of Simple Homemade Soaps
Bath Melts and Bath Bombs
Floral Salt Foot Scrub Bars
Basil & Lime Lip Balm
And a whole a lot more
All of the projects are easy to make and use commonly found herbs and other natural ingredients. No fancy equipment required and as I have already mentioned, if you do not have a certain ingredient on hand, there are tips on how to substitute and what works best. 
Calendula Spice & Honey Cleansing Scrub
I have been looking for salt and soap-based scrub to use on my arms and legs.  Here in Arizona, there is a lot of desert dust plus it is easy to get alligator skin from the dry weather.  As a result,  I wanted something oily to combat the dryness but also cleansing to get rid of the dust that seems to blow in at a moment's notice. 
This particular scrub polishes the skin as it cleanses, leaving behind a light silky feel. Ginger and cinnamon increase circulation and warm the body as they add a delicious scent along with the vanilla extract.   I never would have come up with this spicy scent combination myself but love it so much that I may incorporate ginger, cinnamon, and vanilla in one of my salves or soaps.  It is that good.
According to Jan:
Calendula was chosen for this recipe because it offers multiple beneficial properties that are helpful for repairing and maintaining skin health. Sweet almond is a nourishing oil that's suitable for most skin types, but if you're allergic to tree nuts, try using olive or sunflower in this recipe instead. Mild liquid castile soap gently lifts away dirt, while honey rejuvenates damaged skin. Use this delightful scrub once every week or two for smoother, silkier skin!
 1⁄4 cup  coarse sea salt
1⁄2 tbsp calendula-infused sweet almond oil (see below for instructions how to infuse oil)
1 tsp raw honey
1 1⁄2 tbsp  liquid castile soap
1⁄8 tsp ginger
1⁄16 tsp cinnamon
1/4 tsp pure vanilla extract
Place all of the ingredients in a small mixing bowl and stir together until completely combined. Some brands of castile soap have a stronger scent than others, so smell the mixture to determine if it needs more vanilla or spices, and add extra of those ingredients if desired.
Spoon the mixture into a 4-ounce jar.
For the best results, apply the scrub to skin dampened by water such as in a shower or bath. Scoop out a small amount and rub over dry spots and other places on your body in need of cleansing and exfoliation.
You can also use this scrub as a hand wash. Rinse well with warm running water. Be careful if using in the shower or tub, as the oil might make the floor a little slippery.
Gaye's Notes:  This is a very dry scrub and as a result, it is inherently messy.  Doubling the amount of infused sweet almond oil made for an oilier scrub (not a bad thing in my case) and less mess.   The way I use it is to squeeze a glob of the scrub together into a loose ball then rub it over my skin.  This prevents the salt from flying all over the place.  Using extra oil or even some extra  soap is a matter of personal preference so feel free to experiment.
Recipe reprinted with permission from The Big Book of Homemade Products for Your Skin, Health and Home by Jan Berry, Page Street Publishing Co. 2020.
How to Infuse Oil
I first learned how to infuse oils while soap making. 
Taking my cue from the book Hot Process Soapmaking by Heide Villegas, I filled a mason jar a little more than one-third with dried calendula  flowers then topped the jar with pure olive oil from Costco.  For soapmaking and scrubs, you do not need to use the more expensive EVOO. 
I then covered the jar with a cheesecloth secured by a rubber band and set it in a sunny window for about a week.    The oil turned a glorious yellow and was usable right away although keeping it in a dark cupboard has allowed the oil to become stronger and even more beautiful, color-wise.
Jan's book goes into more traditional ways to infuse oil with herbs and flowers, as well as a quickstart way using a mason jar and water bath.
It is important to note that while the scrub I shared above calls for sweet almond oil infused with calendula flowers, I used olive oil because that is what I had.
The Giveaway
To enter the giveaway you will need to use the Rafflecopter below.  There are multiple ways to enter so chose as few or as many as you like.
As is my usual style, you can earn multiple entries by answering what I like to call a "giveaway question" in the comments below.  The question for this particular giveaway is very simple:
What DIY product is on your bucket list to make?
Note that if you do leave a comment, you still need to indicate you have done so in the Rafflecopter.
If you are experiencing a problem accessing the Rafflecopter widget, try this link instead: Rafflecopter Web Page.
Fine Print:  This giveaway will start on April 14th at 12AM MST end on April 20th at 12AM MST.  The winner will be notified by email.  The winner must confirm within 48 hours or an alternate will be selected.  This giveaway is open to US and Canadian mailing addresses only.
Additional Reading:  Easy Homemade Melt & Pour Soaps: Interview with Jan Berry
Summing It All Up
I am sure I have said this before but one of the joys of retirement is that I have been able to spend more time creating DIY products.  This is a blessing and a curse.  I get so much joy out of the process that I often end up with far more than I can use.  But that is okay with me because I can usually find someone who is thankful for taking excess DIY treasures off my hands!
Seriously, though, if you are interested in becoming more proficient in making homemade products, this is a great book to have.  Salves, soaps, and household cleaners are included and a whole lot more. 
Which gets me thinking. One of these days I should compile all of the recipes I have crafted and shared over the years.  Something to think about for sure.
Yours for a Joyful Life,
Gaye
Strategic Haul
The Big Book of Homemade Products for Your Skin, Health and Home: Easy, All-Natural DIY Projects Using Herbs, Flowers and Other Plants:  If you like to mix and match ingredients in your DIY products, you will love this book.  It is a gorgeous book with lots of pictures and lots of variety.  There are recipes for personal care, home remedies, natural pet care, soap, and household products.  I love that the use of specific herbs and flowers are interchangeable or can be left out completely.  You will not be disappointed.
Sweet Almond Oil:  Over the years I have learned to trust products from NOW Foods.  I love that they are budget friendly while being of high quality.
Organic Dried Calendula Flowers: Trust me on this one.  Get a small bag of dried calendula.  I ordered a pound and now have enough calendula to last a lifetime.  It was huge!  Better yet, get some seeds and grow your own.  That is what I am planning to do this summer.
Dr. Bronner's Liquid Castile Soap:  This soap is a staple in my cleaning pantry.  It comes in various "flavors" such as peppermint, tea tree, eucalyptus, citrus, rose, almond and more.  These days I prefer the unscented so that I can add my own essential oils in accordance with how I am using the soap.  Although I have not tried it myself, I have heard good things about Dr. Woods Liquid Castile soap which is slightly less expensive.  I use liquid castile soap to clean my toilets, mop my floors, and shampoo my dog.  A little goes a long way!
Hot Process Soapmaking by Heide Villegas:  This book is my bible when it comes to Hot Process Soap.  I learned from this book and have never had a fail.  Be sure to try the Sexy Wild Man soap!
BOGO HIGH POTENCY FORMULAS
20% Off Everything Else Using Code GAYELEVY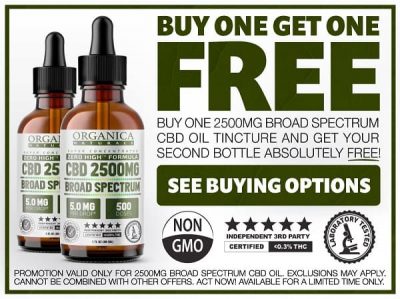 Like this? Be sure to visit Strategic Living on Facebook and Pinterest!  To learn more about Gaye, visit her ABOUT page.
Stay Informed!  Sign up and be the first to learn about something new at Gaye Levy's Strategic Living Blog 

Want to give CBD Oil a try?  Get a 20% discount using code "gayelevy" at checkout.  Free shipping on orders over $100 and a 60 day return policy.
~~~