CBD Flash Sale

Buy One Get One Free + 20% off
This week's Flash Sale at Organica Naturals is huge.  Get two bottles of Broad Spectrum 2500 or 3500 CBD Oil for the price of one.  ** This is commonly referred to as BOGO. 
Not only that, you get an additional 20% off when you use my discount code GAYELEVY at checkout.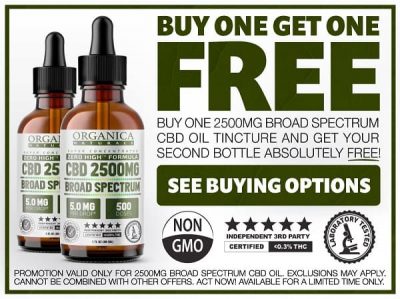 This sale is valid through Sunday at midnight.
~~~
It goes without saying that I have become a huge advocate for CBD Oil.  Not the fake stuff you get on Amazon but the real deal.  Interested in learning more?  Here is some recommended reading.
And my favorite CBD Oil company? 
Organica Naturals is where I purchase CBD for personal use.  I prefer the Full Spectrum CBD Tincture whereas my husband prefers the Full Spectrum Capsules (which are too high of a dose for me). 
Regardless of what you choose, all Organica Naturals products include free shipping and a 60-day no questions asked guarantee.  Plus, if you use the code "gayelevy" at checkout, you will currently get a 20% discount.
Note:  I am an affiliate for Organica Naturals and receive a commission when you make a purchase.  That said, I have tried CBD from a number of companies and feel Organica has one of the better products available at a price that is not crazy ridiculous.